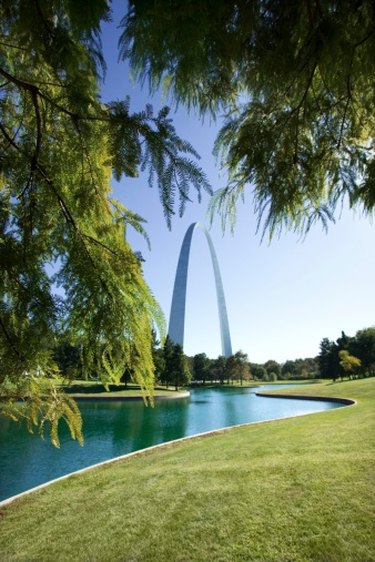 When a woman is expecting, her friends often throw a baby shower before the big day. These events usually involve games, gifts for the expectant mother and light snacks. While many baby showers occur at someone's house, St. Louis, Missouri has venues for party hosts who want to have the occasion at a non-domestic venue. Many of St. Louis' golf clubs, banquet centers and restaurants have private rooms for special events including baby showers.
Banquet Centers
While most banquet centers have large ballrooms for extravagant soirees and receptions, some of St. Louis' banquet centers also accommodate intimate private parties like baby showers. The Christy Banquet Center (thechristy.com) is in St. Louis' Christy Park neighborhood. This space seats 100 to 350 guests for events. The Christy provides on-site catering upon request. Located in southern St. Louis, Genesis Banquet Center has a seating capacity of 50 to 450 guests in its ballroom. The Genesis Catering (cateringbygenesis.com) company provides catering. This banquet hall also provides décor upon request.
Restaurants
Many of St. Louis restaurants provide private dining rooms for baby showers. These venues provide catering for events from the restaurant's kitchen. In St. Louis' Central West End, the Wild Flower Restaurant (wildflowerdining.com) has a private dining room with a seating capacity of 140 to 150 guests; the banquet room at Wild Flower is on the restaurant's second level. Wild Flower serves contemporary American cuisine. St. Louis' West End is home to Blueberry Hill Restaurant (blueberryhill.com), a landmark eatery with pop culture memorabilia and live music every evening. This restaurant has the Elvis Room, a room with Elvis-themed décor and a seating capacity of 50 to 60 guests. For smaller baby showers, Blueberry Hill has the St. Louis Room, which seats 14 guests comfortably.
Golf Clubs
The clubhouses at St. Louis' elite country clubs have private rooms for private events. Catering and event coordination are usual amenities for parties at these golf clubs. The Algonquin Golf Club (algonquingolfclub.com) is in St. Louis' Glendale neighborhood. This golf club has a main dining room for large parties of up 250 guests, but also offers more intimate settings for smaller parties. These rooms seat 25 to 50 guests for parties. The Westborough Country Club (westboroughcc.com) is in southern St. Louis' Oakland neighborhood. This golf club has a banquet hall inside Westborough's clubhouse. An outdoor patio area is available for private parties and offers picturesque views of the golf course. The banquet hall has a seating capacity of 300, but also hosts baby showers with fewer guests.
Bed and Breakfasts
Some of St. Louis' historic, Victorian-era mansions have been converted into bed and breakfast accommodations. These bed and breakfasts feature elegant décor and private rooms for baby showers. The Park Avenue Mansion (parkavenuemansion.com) is right off Lafayette Park in St. Louis' Near Southside neighborhood. This mansion features outdoor courtyards with brick-surfaced patios for private parties. The bed and breakfast does not provide catering or setup for private events. The Fleur-de-Lys Mansion (thefleurdelys.com) is on the edge of Compton Hill Reservoir Park in Compton Heights, a southern St. Louis neighborhood. The Mansion features a private dining room that seats 25 guests for events such as baby showers. Fleur-de-Lys offers a catering service.