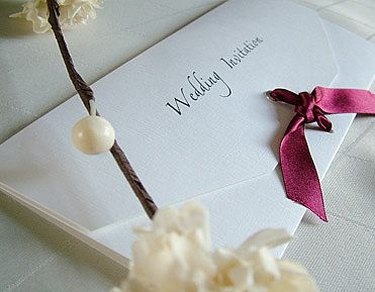 It's always nice to receive an invitation, but when it is on the formal side, what is the best way to write your response? Wedding invitation sites have many suggestions, but you probably don't want your wording to seem too stiff or too casual. Aside from that, what should you write if you are unable to attend?
Nearly all wedding invitations come with RSVP cards that are designed to match the invitations, with blank areas for guests to fill in their response. If you'll be sending invitations, you can choose from this sort of template or create different designs to get printed yourself. Many wedding invitation sites will include envelopes or addressing with the purchase of your invites and RSVP cards.
There are also wedding invitation sites that collect and manage the RSVPs digitally. You can order a coordinating set of invitations, envelopes, information cards and RSVPs in one place and have the responses managed. Others also offer place cards, wedding programs and menus. They are like one-stop shops for all your wedding or event printing needs.
RSVP stands for "répondez s'il vous plaît," which is French for "reply, if it pleases you." That does not mean that it is optional, though. Your hosts need to know if you are attending their event, and the most polite thing to do is to respond before the indicated deadline. Catering venues usually need their final head count two weeks before the event, and when RSVPs are not received, hosts have to contact those guests. This can be awkward for all parties involved.
The way you write your response is dictated by the type of RSVP, but these days, most people aren't concerned with formality. Many RSVPs can be emailed, while others prefer the more traditional mail-in cards. In most cases, there will be a stamp on the envelope so you won't have to buy one.
When you get the invitation, don't stick it in a pile on the counter and forget about it. It is better to place it on your desk and to set a reminder to respond before the deadline.
RSVP cards usually have blank lines for you to write your name along with boxes to check. One might read "accepts with pleasure," and the one under that could say "declines with regret." Below that, there may be a choice of entrees from which to choose if a meal will be served. There should also be some room to write a personal note, which is always appreciated.
If you are able to attend the event, you might write something such as, "Thank you for inviting me! I am really looking forward to it." Alternatively, when the invitation is from a close friend or family member, you could write, "Wouldn't miss it for the world! Can't wait for your wedding!" Try not to go overboard, though. A sentence or two is fine.
It is harder to decide what to say when you have to decline an invitation, and it is even more important to write a short note. There is some standard wording for declining an RSVP, such as, "Thanks for inviting us. Unfortunately, we have plans and won't be able to join you. We are sad to miss your wedding and hope to see you soon." Some people include the reason (like "our niece's Bat Mitzvah is the same day"), but this is not necessary. When you know the person well, it's always nice to pick up the phone or at the very least send a text expressing your regrets with a more personalized touch.