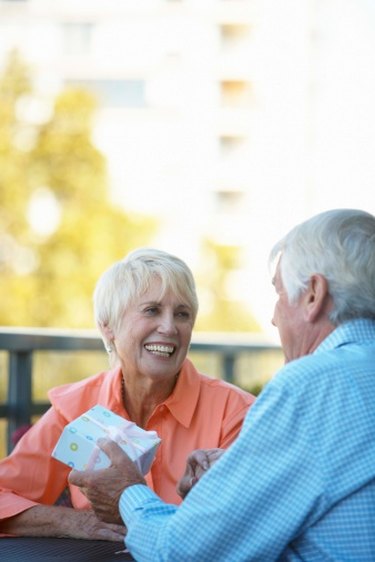 An 80th birthday is a special event for the birthday honoree and her family. Give the 80-year-old woman a special gift that not only celebrates her new age but congratulates her accomplishment. There are many options to consider when brainstorming the most suitable gift for the birthday recipient. Depending on personal preference, you can give a sentimental gift that treasures her glorious past, a hobby or interest gift, a comfort gift or a personal gift like your undivided time and attention.
Sentimental Gift
Most 80-year-old women value precious memories that hold more significance than monetary value. You can give the birthday honoree a sentimental present that treasures her past so she can preserve fine memories forever. Consider a scrapbook filled with memorable photos from her past and assorted memorabilia arranged in chronological order or a picture book of treasured photos. Alternatively, you can frame an old, forgotten photo of the 80-year-old woman from her younger days and give it to her, or hire a professional photographer to take a family photo of the matriarch with her children, grandchildren and great-grandchildren.
Time and Attention
Most 80-year-old women can get lonely and crave the company of their family and friends. You can give her the gift of your time by taking off from your busy schedule and dedicating the day to the birthday girl. Whether you live in the same city or have to drive or fly from another location, a little effort on your part will make the birthday girl's day extra special. You can take a box or bag of assorted items such as old family albums, her favorite book or family videos to make the day more memorable. Plan to do some of her favorite things -- prepare her favorite breakfast, read to her, go through old albums together, have lunch in a local park, go to the museum or stay inside and hear her stories from the past while sipping on tea. The elderly can tire easily, though, so respect her rest and meal times. Before you leave, give her a calendar with pre-marked dates of your next visits so she looks forward to seeing you again.
Comfort Gift
Spend some time beforehand paying attention to what the 80-year-old woman needs, and give it to her on her birthday. For instance, you can give a senior citizen special reading material in large font or a magnifying glass that makes reading easier for her. Alternatively, you could give her a personal massage device that fits into any recliner and massages her back and shoulders. If the elderly lady lives alone, you might consider arranging a meeting with a local services company to send a hired nurse every other day or whenever needed, or hire a personal nurse to look after her. Other ideas include giving her a heated throw, skid-proof slippers or a lamb's wool cardigan.
Handmade Item
You can give the 80-year-old woman a true gift from the heart by giving her a handmade item that she can proudly display in her room or house. Paint her a scenic view of her favorite holiday spot or make a portrait or you and her. You can also make her a special plaque that celebrates her new age, a box of handmade scented candles or paint small pots and plant aromatic plants or herbs in them.