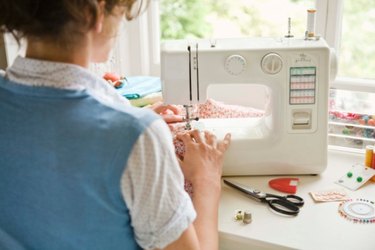 To start sewing you need to know the tools required and the tools that are available to you. Sewing supplies include shears, an iron, measuring tools, and needles, at the very least. An initial investment of this kind will cost, as of 2011, around $100. You can find these supplies at large craft chains as well as at specialty stores. Buy other items as you take on more complex and involved projects.
Marking
Marking tools are essential to sewing. On most sewing patterns, you'll find symbols that indicate what to do with the fabric, and it's important to transfer those markings to your actual fabric. Several marking options are available. Quilter's chalk is a great option and also washes out of fabrics. One of the downsides to chalk, however, is that it's not always precise. Sewing stores and sections within larger craft stores sell washable markers. Washable markers are precise and easy to see. If you don't want to spend extra money on marking materials, a good colored pencil will do the trick. You'll want one that contrasts with your fabric and that writes smoothly.
Measuring
Regardless of what type of sewing you do, you need measuring tools. If you're into apparel sewing, a measuring tape is a crucial part of your supplies. You'll use a measuring tape to take body measurements, and nothing else will do as good a job. You can find measuring tapes in any sewing aisle or sewing store. You'll also need tools to measure straight edges. An acrylic ruler is the best option for this. You'll find a quilting grid ruler the most helpful, because the transparent grid will help you determine angles and diagonals in your work. You can find grid rulers in 2-inch, 6-inch and 10-inch widths.
Cutting
You can't sew well unless you have good sewing shears. Scissors from the art supply aisle won't cut it—literally. While saving money may be a priority, you'll never regret investing in a good pair of steel sewing shears. Once you have good shears, use them only for cutting fabric. When cutting out the tissue pattern pieces, use paper scissors, not your shears. You should also get them sharpened when you notice they're not cutting as well. Ask your local sewing shop staff if they offer sharpening services. Shears can't be your only cutting tool, though. You'll want another pair or two of smaller sewing scissors. A medium pair of sharp scissors will be useful in cutting seams and notches, while a pair of embroidery scissors is perfect for trimming thread ends.
Pressing
You'll find a good iron indispensable to your sewing. Patterns and tutorials will ask you to press your work and pressing is different from ironing. Pressing isn't just getting the wrinkles out but rather uses heat and weight to direct the fabric. As with sewing shears investment in a good iron will be worth it.
Sewing
Keep a stash of needles for your sewing machine. With each new project it's a good idea to change out the needle on the machine to make sure a dull needle won't snag the fabric or break the thread. You can also buy sewing machine needles for specific fabrics, such as denim, leather, or knit material. Have hand-sewing needles available. With the hand sewing, you'll also find a thimble useful. Specialty presser feet are great sewing tools to keep on hand. At the very least you'll want a zipper foot. If you want to invest in more presser feet, you can buy a ruffle foot, an invisible zipper foot, a walking foot, and a blind-hem foot, among many others. Buy good quality straight pins. To accompany your pins, you'll want a good pin cushion.