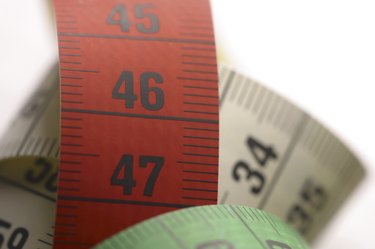 Altering a jacket can correct for a variety of sizing issues, ranging from simple ones, like sleeve length, to allowing for significant weight loss. Some alterations are too complex to be worthwhile or are best left for a professional; however, simple alterations can be done at home and may improve the fit of a woman's jacket. Both lined and unlined jackets may be altered; however, allow additional time for a lined jacket.
Sleeve Length
The easiest alteration for a woman's jacket is shortening or lengthening the sleeves. Turn the jacket inside out and look at the original hem stitching. It may be stitched to the lining or simply hemmed if the jacket is unlined. Remove the original stitching using a seam ripper or small scissors. Mark the new sleeve length. To shorten sleeves, simply press the new hem into place, then stitch by hand. Lengthen sleeves by stitching a coordinating fabric onto the edge and using that as a hem allowance. Add a bit of ribbon or trim to cover the original hemline on your sleeves if needed.
Taking in a Woman's Jacket
Taking in the waistline of a jacket can make that boxy and dated blazer more modern and fitted. Determine how much fullness you would like to remove and experiment by using sewing pins or clip-type clothespins to shape the jacket. Some ways to create a slimmer line include taking in the side seams or adding several darts to the waist to shape the body of the jacket. Baste your alterations into place and check fit before stitching. You can opt to sew through both the lining and outer fabric for an easier alteration, or remove the lining, alter both the lining and outer fabric, then replace the lining.
Restyle a Jacket
Make that dated jacket a totally new garment by altering it into a new shape and style. A larger jacket may allow you more alteration options. Try dramatically shortening a boxy blazer into a cropped swingy jacket by removing excess length and re-hemming. Or take the jacket apart at the seams and re-cut the pieces using a favorite jacket pattern. This can allow you to make an all-new woman's jacket at little or no cost and create the custom fit you want.