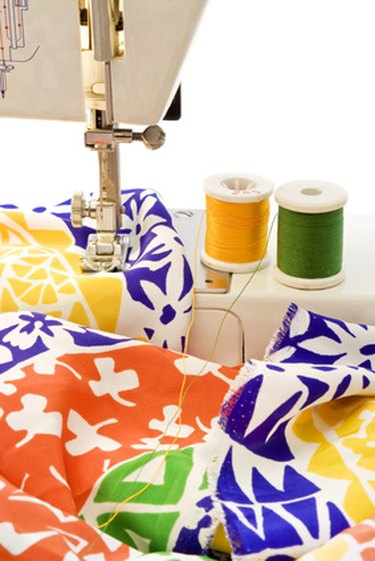 The Singer Prelude Sewing Machine, model 8280, has several handy features, including seven stitch patterns, an automatic 4-step buttonhole, free arm sewing for cuffs and sleeves, built-in storage and a 25-year warranty. Oiling is an important part of maintaining your Singer Prelude; it's easy and involves a few simple steps.
Oiling Your Singer Prelude
Step 1
Start by unplugging the main power cord from your machine before you perform any kind of maintenance. Remember to unplug your machine after you use it and before you clean any part of it.
Step 2
Open the accessory storage compartment on the front of your machine and remove the bobbin case. The bobbin case is the circular part right in front of the storage compartment.
Step 3
Pull the two hook retaining arms that are holding the bobbin in place, outward in opposite directions to release the bobbin.
Step 4
Remove the hook race cover and the hook, these two parts make up the bobbin housing and will fall forward as soon as the retaining arms are released. While you have these parts out, clean them with a soft cloth.
Step 5
Lubricate the hook, which is the center post inside the bobbin, with 1 to 2 drops of sewing machine oil, being careful not to use too much oil. Wipe off any excess so it won't get on your thread or material.
Tip
You can buy sewing machine oil from your local sewing machine dealer or service center.
Warning
If you use your machine more than one hour a day, you should oil it daily to keep it running smoothly.