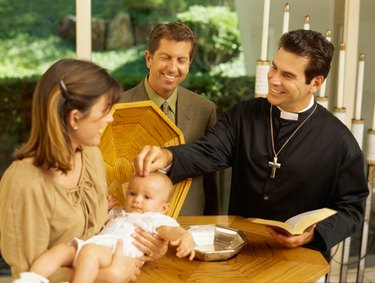 A baptism is a ceremony, recognizing the child's dedication to God, in which the parents, friends and family members promise to bring the child up with his spirituality in mind. Grandparents play a very special role in the spiritual life of their grandson. Grandparents who wish to give a gift at this special time might want to give something meaningful that signifies the role they will play in the child's upbringing.
Apparel
Grandparents might have a family christening or baptism gown or suit to pass on to the baby. This is a wonderful gift, especially if a parent of the baby wore it for their baptism. If there is not a family gown, a grandparent could make something, or could help choose and pay for the ceremonial outfit. Boys as well as girls traditionally wear a gown, although some parents choose to put their boys in suits. Items such as booties, bibs and shoes can also be purchased for a baby's baptism.
Money
Money is a traditionally appropriate gift for a grandparent to give to the parents of the baby for a baptism. Grandparents might wish to cover the cost of a baptism celebration after the service. A savings account or college funds created in the child's name is another way for grandparents to give a monetary gift. Savings bonds, personal checks or cash are also considered appropriate, placed inside a nice card for the child.
Keepsakes
Items such as jewelry, engraved picture frames and memory books are special mementos of a baby's baptism. Picture frames that have a special Bible verse, the baby's name, or the date of the baptism will be treasured for years, and they can include a photo of the baby with the grandparents. Crosses or plaques with prayers can hang in the baby's room as a daily reminder of their commitment to God. Jewelry can be given for when the baby is older. Cross necklaces in masculine styles make nice baptism jewelry gifts.
Baby Items
High quality baby items are also appropriate gifts from grandparents for a baptism. Personalized baby blankets are practical. Rocking chairs, wooden toys such as trains or rocking horses, or a toy box engraved with the child's name would be treasured throughout childhood. Children's Bibles, or storybooks with a personalized message, are another nice idea that would hold special meaning for the child for years. Choose items that you know will withstand time and could be passed down to the next generation.