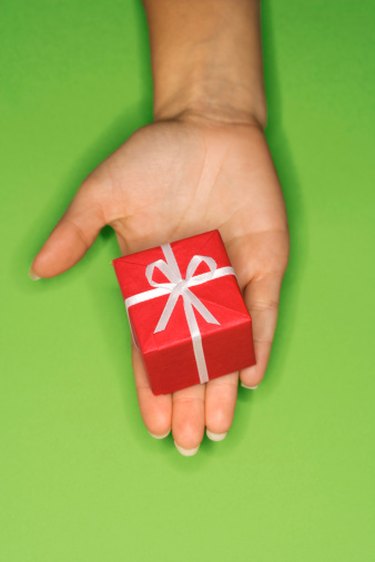 The desire to increase membership and minister to as many people as possible means that first-time church visitors often receive tokens of the church's appreciation. You can make your visitors feel welcome and encourage a return visit with a gift that communicates love and fellowship.
Edibles
A small treat to nibble on after the service can leave a good taste in the visitor's mouth and a good feeling about your church. Have church volunteers bake loaves of homemade bread. Wrap them in colored cellophane with a ribbon, and attach a small card with a welcome message. Or, give a coffee mug with your church's name on it that's filled with candy. You also could make your own trail mix for first-time visitors. Buy decorative tins to put the snack in, and attach a personal message.
Coupons
Encourage visitors to become a permanent part of your church family with service coupons. Form a committee of volunteers to make customized coupon booklets for visitors. For example, a family with kids may need a babysitting coupon, while an elderly visitor may prefer a coupon for snow shoveling or house cleaning. Church volunteers sign up to honor the coupons. If you don't have enough volunteers at your disposal, ask local businesses to provide 50-percent-off coupons to your church's first-time visitors. If business owners need gentle persuading, offer them a discounted rate for advertising in your church's bulletin.
Odds and Ends
Give each visitor a tote bag emblazoned with the church's name and logo. Fill it with church informational pamphlets. Other gifts can include a coffee travel mug, church calendars or church magnets that will have visitors thinking of your church every time they open their refrigerator. Create a "Visitor Survival Kit" and include a roll of Lifesavers, a pen, a map of the church (for locating bathrooms and the correct Bible-school classroom), a pocket-sized New Testament and a card that says "Just Visiting" to put in the offering plate.
Other Gifts
Make a DVD about your church to give to first-time visitors. Have the pastor introduce himself on the DVD and talk about the church. Capture footage from different Bible-school classes and church events. If your church has a website, set up free downloads for visitors (such as podcasts, Christian music or recorded sermons) and give each visitor a download code. Buy journals and have each member of the Visitor Outreach Committee write a favorite Bible verse at the top of each page to personalize it.