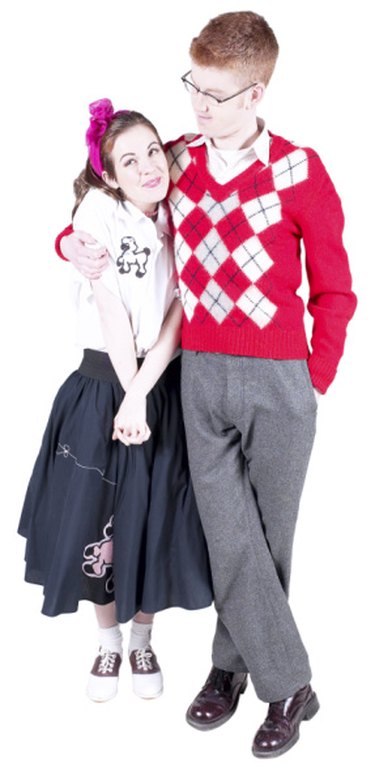 Whether for a costume party, Halloween, or just to do something, the first place you might want to look when helping your child or teenager come up with a retro-inspired costume is the back of your closet. In fact, lingering relics from bygone eras can make wonderful costumes for school dress up days. Clothing from decades as recent as the 80s can qualify as retro, but keep in mind that costumes should remain consistent -- don't mix two retro eras together.
1950s Style Essentials
For 1960 costume ideas, girls can wear very trendy poodle skirts with crinolines, cardigan sweater sets, anklets and saddle shoes. Hair should be worn back in a ponytail or shoulder-length with turned up ends. A casual 50s look for girls is as easy as jeans rolled up to mid-calf with an over-sized tailored shirt, white anklets and penny loafers. Boys can look instantly 50s by wearing a black leather jacket with the collar turned up. A dressier look might include a letter-sweater or varsity jacket with chinos and white bucks for shoes.
1960s Closet Crushes
For a look from the 1960s, boys can wear a fitted suit as seen on the Beatles in their earlier years. Girls can wear tailored clothes matching the outfits from TV shows such as "That Girl" and "The Mary Tyler Moore Show." Pick a boxy jacket that stops at the waist, and wear a straight knee-length skirt. For an upscale look, wear a pill box hat -- made popular by Jacqueline Kennedy -- along with white gloves. For a more casual choice, wear a Hawaiian-inspired mu'umu'u (pronounced moo-moo) dress with sandals.
1970s Polyester Playground
When channeling the 1970s, boys could wear the iconic leisure suit -- a two- or three-piece suit made of polyester with very wide lapels. For a casual look, boys and girls alike can wear a tie-dyed shirt with bell bottom jeans. Platform shoes -- popular in the 1970s -- are back in fashion in 2014. Girls could wear their hair long, loose and adorned with flowers. Both boys and girls can wear large-framed glasses. Girls could try blue eye shadow and heavy black eyeliner.
The 1980s Power Look
For a distinct 1980s look, wear fashions that are big and bold. Jackets with big shoulder pads, red or blue-framed glasses, chunky jewelry and large hand bags are all good picks for a retro 80s look. Girls can wear leg warmers worn with shorts and delicate ballet slippers with an off the shoulder sweatshirt à la "Flashdance". Boys can dress in a white jacket with colored tee-shirt for the "Miami Vice" look. Boys can also don a preppy golf shirt with the collar up.