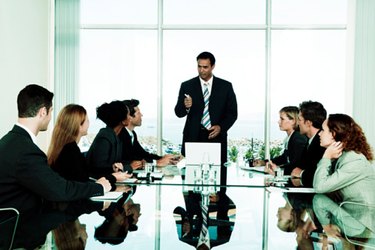 Your board members have likely put in long hours to help make your organization or business a success, and many of them you probably now consider close friends and business confidants. Especially if the members of your board are volunteers, you want to communicate how much you value their contributions. Show your appreciation for board members who have reached the end of their tenure with a thoughtful and personalized gift.
Certificate of Achievement
Draft a certificate that identifies the departing board member and itemizes his specific contributions and achievements with your organization over the years. The certificate need not be longer than one page, and you can then print it on certificate paper -- available at office supply stores -- or send it to a printer for a more professional-looking result. Have a senior member of management sign the certificate. Mat and frame the certificate to present to the departing board member, who will treasure it for years to come.
Photo Collage
If you have an extensive collection of photographs from your organization's events and meetings involving the board, hire a graphic designer or intern to create a photo collage that features the departing board member. Include text at the bottom of the collage that identifies her by name, lists the years of her tenure on the board and congratulates her on her fine work. Print the collage on photo-quality paper, then mat and frame it to give to the board member.
Engraved Pen
A classy and moderately more expensive gift, a fine, refillable ballpoint pen engraved with the board member's name or initials will be used and appreciated for years to come. Include your company's logo in the engraving if possible, and opt for a pen model that comes in a keepsake box.
Long-Term Tribute to Service
Consider creating a space in your office or headquarters where you can honor departing board members, such as a wall where you hang pictures and plaques with identifying information. Hold an induction ceremony each time a board member or group of members departs, during which you can make a toast to each person's service and contributions and honor them all by adding their photograph to the permanent wall.