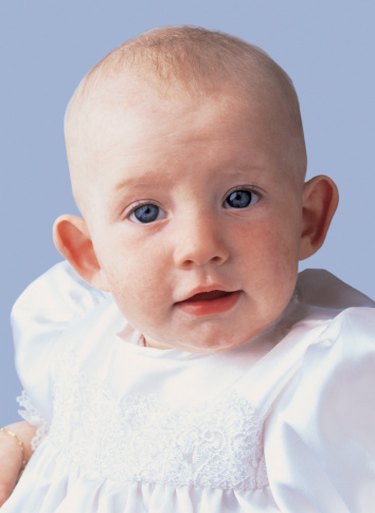 Purchasing a christening gift for a grandchild can be challenging, but the most thoughtful gifts show that you put forth effort to demonstrate your love and support. The bond of a grandmother and a grandchild is special. Memorialize your relationship with a keepsake heirloom gift that you pass on to your grandchild.
Cross
A cross is a thoughtful gift that can decorate the child's room. When your grandchild is old enough to recite prayers on her own she can pray to your cross. Crosses are significant to Christians because they signify the weight that Jesus bore for the sins of humans. Some crosses can be personalized for the recipient. For instance, have a wooden or silver cross engraved with your grandchild's name as well as the date of her christening.
Keepsake Bible
Even though your grandchild might be too young to read, she can appreciate having her mother read from a keepsake Bible to her. When your grandchild grows up she can become educated about the Bible by reading it on her own. Some children prefer to read from youth Bibles which tell passages in a simplified way. Alternatively, have a leather-bound Bible engraved with your grandchild's name for her to treasure while she matures.
Christening Outfit
Christening outfits can be made from a sentimental fabric, such as your old wedding gown. Just double check that your granddaughter's parents are okay with your cutting up the gown. Your grandchild should appreciate an heirloom christening outfit that she can hold on to for years to come. Simply bring your gown to a tailor with the measurements of your grandchild. Give the tailor a photo of the type of outfit to make, such as a gown with a cap.
Jewelry
Although infant jewelry is impractical for daily use your grandchild can wear it for special occasions such as her christening. Purchase jewelry made specifically for infants, such as a cross on a very small chain. Or get a cross locket and inside the locket put a photo of your grandchild getting baptized. For another idea, purchase an infant-sized charm bracelet and give several religious charms, such as a cross and a dove.