Things You'll Need
For Kim

Black wig (if you have short hair)

For Kanye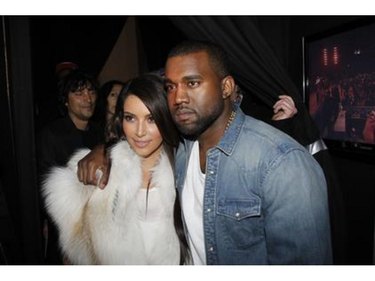 Whether it's courtside seats at a basketball game or strutting down a red carpet, fashion-conscience couple Kim Kardashian and Kanye West are always dressed to the nines. If you want high glamour, with a side of booty, then this is the Halloween costume is for you.
The Kim Kardashian Look
Step 1
An animal print or brightly colored body con dress is a must. The tighter the better. To give this outfit extra Kardashian glitz, layer a faux fur coat or vest over the dress.
Step 2
At a 5'2", Kim is hardly ever seen without her platform heels. Bedazzled or patent leather, strappy or a cute bootie heel all work.
Step 3
Choose your biggest dangly earrings, layer on the gold bracelets and pick out your shiniest rings for the most blinged out look possible.
Step 4
Kim is not known to sport a natural look. It's time to spackle on the makeup. Give yourself flawless skin with a great foundation and powder. Go for big drama with a thick cat eye. Make those lips super shiny with your favorite lip gloss.
Step 5
Go on and fake it baby. Faux lashes are the perfect touch to finish the classic Kim makeup look.
Step 6
Kim spends hours with her stylist to get the hair just right. Sans stylist (and to not spend hours with your blow dryer and rollers), opt for the perfect Kim wig. Give it extra bounce and shine with your favorite hairspray and shine spray.
Step 7
Miss K is known for her derriere and your costume wouldn't be complete without one to match. Take a pillow, stuff it under your dress. To keep it in place, you can tape it to your body or you can use a pair of Spanx. The plus side to Spanx is it will smooth out the lumps giving you a backside that is bootylicious.
The Kanye West Look
Step 1
Keep the outfit simple. Baggy jeans and a t-shirt will do for this mogul rapper. Layering a leather jacket or denim shirt will give this costume an extra cool factor.
Step 2
Bling. Kanye might feel good rockin' a simple T-shirt and jeans look, but he would feel naked without the bling. Head to your local thrift store or costume shop and load up on a couple gold and diamond chains and a gold watch.
Step 3
Kanye brought back the popular 1980s shutter shades in his 2007 music video for "Stronger." Give a throw back to classic Kanye with your own purple, white or orange shutter shades to finish this look. A thick rimmed pair of aviators will also work.
Tip
Matchy matchy might sound out of fashion, but this celebrity couple often finds themselves in coordinating ensembles that are ultra chic. Keep it simple by choosing an all white or all black outfit.