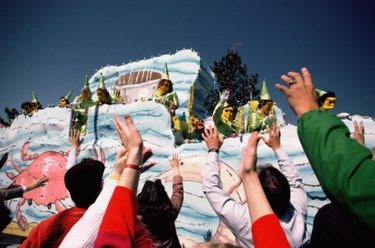 Participating in your local holiday or celebratory parade doesn't have to be an extravagant affair or cost an obscene amount of money from your organization's bank account. Sometimes less is more, so consider simplifying your float ideas by using various household materials and supplies donated by organization members. It may be necessary to purchase new items, but prior to building or decorating a flatbed trailer, review the policies and regulations set forth by the city department sponsoring the parade.
Adorn the trailer base with sheets of green mural paper or indoor/outdoor turf carpeting and attach it using a staple gun, assuming the trailer flooring is wooden. For other flooring types, use temporary adhesive spray or strong, durable duct tape. Stretch lengths of white duct tape across the carpeting or paper to resemble the lines on a playing field, and include duct tape numbers for field line designation.
Dress the participants in jerseys and include a few cheerleaders to ride on the float. Two cardboard tubes donated from a paper manufacturer can be used to create a goal at one end of the float.
Design the float using the typical colors of the celebrated holiday. As an example, during a Memorial Day or Independence Day parade, you may include red, white and blue decorations, but in February, to celebrate Valentine's Day, pink, red and white may be more appropriate. St. Patrick's Day may be integrated into a parade float by adhering strips of colored fabric into a rainbow onto the flooring of the trailer and raising the fabric pieces at the end of the trailer by placing a stack of cardboard boxes underneath it.
At the front of the float, place an enlarged black plastic cauldron with newspaper, and glue oversized foam discs covered in metallic gold paper to cover the visible newspaper. Dress up participants as leprechauns with orange faux-fur hair and beards.
Showcase your organization and the goals it strives to reach by setting a scenario atop a parade float trailer. If your organization's mission is to feed the homeless, float ideas include dressing participants in tattered clothing and winter hats, and staging them assembled at a table eating a meal made from plastic food items.
Clubs such as the American Legion or those centered on war veterans may make a statement by staging a replica of the Iwo Jima Memorial statue in Washington, D.C. while dressed in military uniforms raising the American flag.
Showcase cancer survivors on the float with an enlarged sign stating as such. When possible, encourage a master of ceremonies, using a speaker and a microphone, to introduce the survivors and their tear-jerking stories while the float travels through the parade.
For environmental issue float ideas, stage volunteers as if they were planting trees, recycling and picking up litter., depositing items into recycling bins, and the like. Include the typical colors of your organization, such as pink for breast cancer awareness and green for a "green" community.