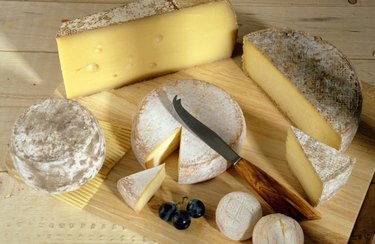 While cheese made from cow's milk dominates the U.S. market, cheeses made from the milk of other mammals are increasingly popular for their tastes, varieties and health benefits. Goat's milk, sheep's milk and buffalo's milk cheeses have higher amounts of nutrients than cow's milk cheeses and can be consumed by those intolerant to cow's milk. Lactose intolerant and vegan consumers can choose from different flavors of soy cheese made by several producers in the United States.
Goat's Milk
The market for goat's milk cheeses is one of the fastest growing within the specialty cheese industry. Goat's milk cheeses have a tangy flavor that gets milder as it ages. About 50 percent of the goat's milk cheeses consumed in the United States are imported, mostly from France. In France, goat's milk cheeses are generically known as chèvre. French goat's milk cheeses include Chabis, Valencay, Cabecou and Le Sarlet. Spain also produces a variety of goat's milk cheeses, including Garrotxa, Monte Enebro and Cabra Romero. American cheese markers produce quality goat's milk cheeses as well. Humboldt Fog, a soft ripened cheese with a slight lemony-tang flavor, is made in Arcata, California. Coach Farm Triple Cream is a triple cream cheese from New York's Hudson Valley.
Sheep's Milk
Sheep's milk cheeses, while gaining in popularity, still hold a smaller piece of the market than goat's milk cheeses. Sheep's milk cheeses have 75 to 100 percent more protein and twice as much fat as cow's milk cheeses. Generally, sheep's milk cheeses have a sweet and nutty flavor. Most of the sheep's milk cheeses consumed in the United States are also imported from Europe. Pecorino Toscano Freso, Ricotta Salata and Pecorino Foglie Di noci are Italian semi-hard cheeses. Hard cheese options include Zamorano from Spain, Berkswell from the United Kingdom and Abbaye de Belloc from France. Hudson Valley Camembert from New York is buttery and mellow with a slight tang.
Buffalo's Milk
Italy has several buffalo's milk cheeses that are commonly used on pizzas, sandwiches, salads and pasta. Mozzarella di Bufala and Quadrello di Bufalo are sweet cheeses that can be spread easily. There is also Ricotta made from buffalo's milk. The Ricotta is actually a liquid by-product of cheese making that is heated to form new cheese.
Soy Cheese
Soy cheese is made from soybeans. Soy cheese is a good option for consumers who are lactose intolerant or want low-fat alternatives to milk-based cheeses. While soy cheese is soy-based, it can still contain some dairy proteins such as whey and casein. Vegans need to make sure to purchase soy cheeses that are completely free of animal products. Sheese, Tofutti and Galaxy Foods are some of the brands producing both vegetarian and vegan soy cheese. Sheese's flavors include Cheddar Style with Chives, Blue Style and Strong Cheddar Style. Galaxy Foods' soy cheeses come in Pepper Jack, American and Mozzarella flavors. Tofutti also has American cheese flavor.