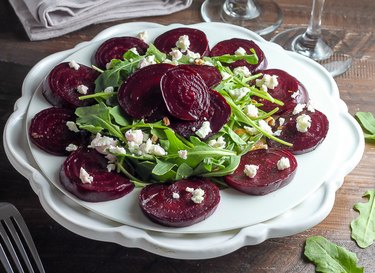 Loaded with vitamins and minerals, roasted beets make a delicious -- and colorful -- salad. You can experiment with endless ways to doll up a beet salad, but this recipe presents a classic combination: peppery arugula, crumbled goat cheese, chopped walnuts and, of course, roasted beets. The salad is lightly dressed in a homemade red wine vinaigrette, which helps highlight the beautiful ingredients and ties the dish together.
Learn how to roast beets following the simple tutorial below, make a quick dressing and then build a healthy salad.
Things You'll Need
1 bunch of beets (or as many as you'd like to roast)

1/2 cup plus 3 tablespoons olive oil, divided


2 cups arugula


4 ounces goat cheese

1/4 cup walnuts

1/4 cup red wine vinegar

1 1/2 tablespoons lemon juice

2 teaspoons honey

1 teaspoon salt

1/2 teaspoon freshly ground black pepper
Step 1
Heat the oven to 400 F. Slice off any stray beet leaves, and scrub the beets thoroughly. Drizzle the beets with 3 tablespoons of olive oil, and loosely wrap them individually in foil. Transfer the wrapped beets to a baking sheet, and roast them in the oven for about 60 minutes, or until a fork or skewer slides easily into the middle of the beet.
Step 2
Let the beets sit on the baking sheet until they're cool enough to handle. Unwrap each beet, and hold it firmly in a paper towel while using the edges of the paper towel to rub away the skin. The skin should peel away very easily; if it doesn't, the beets likely need to cook a little longer. Peel all beets.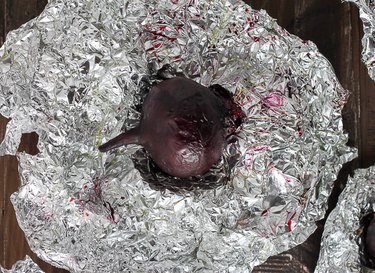 Step 3
Slice the beets thinly, and store then in the refrigerator until needed.
Step 4
To make the vinaigrette, place the vinegar, lemon juice, honey, salt and pepper in a blender. With the motor running on medium speed, add in the remaining 1/2 cup of oil, pulsing until the mixture is emulsified. Store in the refrigerator until needed.
Step 5
When ready to assemble the salad, place the arugula on a large serving platter and beets around the sides. Sprinkle walnuts and goat cheese over the top, and arrange a few sliced beets in the center. Drizzle with vinaigrette, and serve at once.