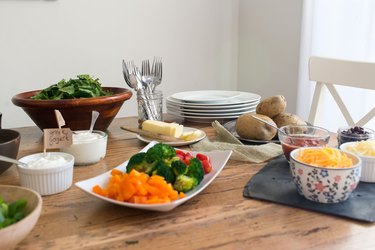 When you need to feed lots of people on a tight budget, the humble potato can be your best friend. It's filling and flavorful, and spuds are both inexpensive and available widely all year long. Potatoes are especially suited for use as a buffet-style meal, where carefully selected toppings provide the color and variety. Setting up your "potato bar" efficiently makes it a fast, fun meal to serve.
Check Your Space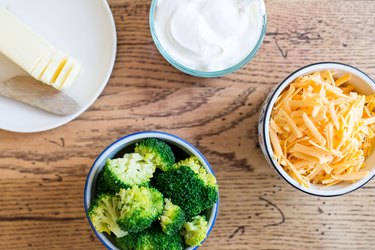 First, do a dry run. Set out a stack of plates on the table or counter where you plan to serve the potato bar and a range of bowls or small plates to represent your chosen toppings. They must all fit in the space at your disposal, with enough elbow room for your guests to ply their spoons. You'll also need room for diners to pass from your bar to the table.
First, the Dishes
Things You'll Need
Plates

Silverware

Small bowls or cups (optional)
Set out a stack of plates at the beginning of the bar. If your guests can use both sides of the table, set out two stacks. Provide silverware alongside the plates, unless you have individual place settings at the dining area. If your bar will include wet or messy side dishes as well as the potatoes, provide a stack of small bowls or cups to rest on the plates and contain those tasty extras.
Think About the Flow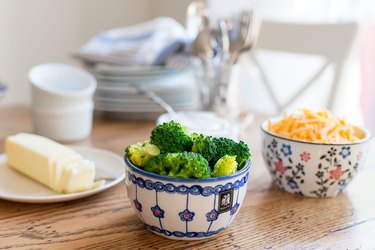 Organize your potato toppings in roughly the order they typically go onto a potato. Butter and sour cream are usually the first, for example, followed by cheese, vegetables and sauces. For a large and elaborate spread, group ingredients such as broccoli and cheddar that are normally used together. You'll probably need several dishes of popular toppings such as sour cream and shredded cheese, but that's more efficient than setting out one large bowl.
Start With the Spuds
Things You'll Need
Large serving bowls

Tongs
The first spot on your table belongs to the potatoes, placed in one or two large bowls with multiple sets of tongs for lifting them out. You should provide a small space for diners to set their plates and cut open the tops of their spuds before proceeding to the toppings. Replace or refill each bowl as it empties, placing any leftover potatoes on top of the new batch so they'll be used first.
Do the Dairy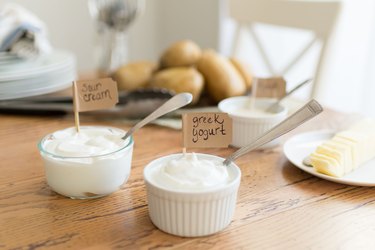 Things You'll Need
Butter

Sour cream

Greek-style yogurt (optional)

Buttermilk ranch dressing (optional)
Butter or sour cream is usually the first item that most diners reach for, so assign them pride of place at the beginning of your bar. Butter in pats is the most convenient option for a crowd. Provide one or more bowls of sour cream or -- as a lower-calorie alternative -- thick, Greek-style yogurt, each with its own spoon. For a flavorful variation, set out a bowl of buttermilk ranch dressing as well.
The Big Cheese
Things You'll Need
Shredded and grated cheese

Cheese sauce (optional)

Small slow-cooker (optional)
Cheese is a crowd-pleaser, so don't stint on it. Offer a range of options, including shredded cheddar, flavorful Monterey Jack or Gouda, pungent Parmesan and stretchy mozzarella, or a blend of several cheeses. As an alternative, consider whipping up a batch of your favorite cheese sauce. Replenish the sauce regularly to keep it hot, or set it out in a small slow-cooker set to "Keep Warm."
Savory Stuff
Things You'll Need
Chili

Crumbled bacon

Diced ham or sausage

Seasoned taco meat, pulled pork, shredded brisket or other meats to taste
Next, set out a few savory options to punch up the potatoes' flavor. Chili is a popular choice, and it turns the simple spud into a full meal. Crumbled bacon is a no-brainer, but diced ham or sausage is an excellent alternative. If you want to roam a little farther afield, set out a bowl of seasoned taco meat, pulled pork or shredded brisket in barbecue sauce.
Onions and Their Kin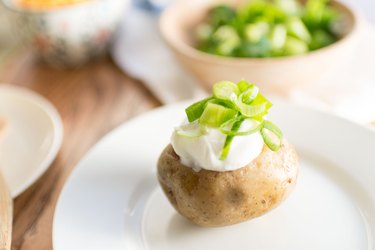 Things You'll Need
Chives

Green onions

Caramelized onions

Leeks

French-fried onions
No potato bar is complete unless the onion family is represented. Chopped chives or minced green onions are the most versatile, providing a fresh contrast and colorful garnish to any well-dressed potato. Caramelized onions are excellent with meaty toppings, or offer sauteed leeks as an upscale alternative. French-fried onions, shaken from their can or set out with a bowl and spoon, provide a textural crunch as well as a pleasant flavor.
Veg It Up
Things You'll Need
Sweet peppers

Chili peppers

Tomatoes

Broccoli

Salsa
Well-selected vegetable toppings add vivid colors, flavors and textures to the potatoes, making them feel like more of a meal. Finely diced sweet peppers in multiple colors, thin-sliced chili peppers, diced tomatoes or steamed broccoli are all excellent choices. So is fresh-made salsa, which combines many of those ingredients in a single spoonful.
Think in Themes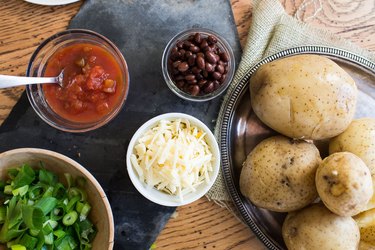 Lend interest to your bar by clustering your toppings in themed groups. For example, group queso blanco with salsa and black beans for a Southwestern potato. An Italian grouping might include thin-sliced pepperoni, julienned Genoa salami, sauteed spinach and ricotta or mascarpone cheese. You might even channel your favorite deli by setting out cream cheese, slivered gravlax or cold-smoked salmon and a dish of capers.
Mash It Up
Although potato bars are usually built around baked potatoes, you can have just as much fun with a mashed-potato bar. Set out bowls of fluffy mashed potatoes, each with its own serving scoop, and replenish them frequently to keep them hot. Most toppings work just as well with mashed as with baked potatoes, and you can add country gravy or chicken gravy for the traditionalists.
Something on the Side
Things You'll Need
Cooked vegetables

Cold salads

Casseroles
Though potatoes should remain the focus of your table, feel free to add side dishes, such as hot, cooked vegetables, cold salads or family-favorite casseroles. Some offerings, such as chili or shredded brisket, work equally well as toppings or side dishes. Prepare extra of those items if you're offering the option.
Tip
If you're feeding just your immediate family, you can streamline your preparations pretty dramatically. Set the table as you normally would, then -- following the same rules as for a large gathering -- arrange the potatoes and toppings to provide a logical "flow" for assembling each plate.
If you're feeding a large number of people, countertop roasters are your friend. Standard-sized 16-quart and 18-quart roasters can accommodate 10 to 15 pounds of potatoes each, or roughly 20 to 30 russets, depending on their size. With two to four roasters, you can easily feed up to 100 people. Even better, using roasters for the potatoes means your range and its oven are available for preparing side dishes and desserts.
Keep lots of extra utensils washed and ready. Some will inevitably drop onto the floor, into the sour cream, or wander off to the table with absent-minded guests, and you'll have to replace them.
Warning
When you're serving buffet-style, always remember the "rule of two." Any foods left out at room temperature for two hours or longer should be discarded because they're no longer food safe. Set out your potatoes and toppings in the smallest portions that make sense, and replenish them frequently.