Salty and sweet — that's the beautiful flavor combination you'll find in each bite of a bacon-wrapped date. Smokey bacon, melted cheese and rich fruit unite in such a pleasing way, it's no wonder this dish is a consistent crowd-pleaser. You can stuff these dates with different kinds of cheeses, like goat cheese or cream cheese, but rest assured, they taste just as great without any cheese at all.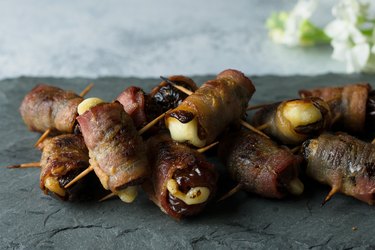 Watch the video
Things You'll Need
12 medjool dates

6 small balls of mozzarella, cut in half

4-6 pieces of bacon

12 toothpicks

Paring knife

Parchment paper

Baking sheet
Step 1
Heat oven to 400° F. Cut a small slit into each date from top to bottom and remove the pit.
Step 2
Stuff each date with a piece of cut mozzarella. Once stuffed, try to pinch the date closed again as much as possible.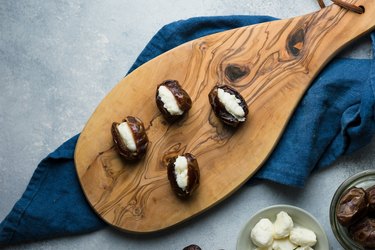 Tip
These dates taste great with other types of cheeses, too! Try substituting the mozzarella for about 1 teaspoon of goat cheese or cream cheese.
Step 3
Cut the bacon strips either in half or into thirds — whatever allows the date to be wrapped only one time around. Place the date (cut side down) onto the end of a strip of bacon and roll. Secure with a toothpick. Repeat this process until all of the dates are wrapped.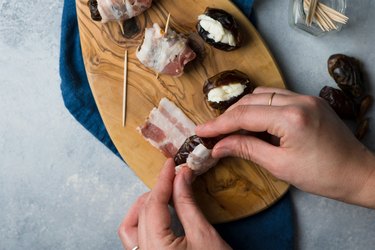 Step 4
Place the dates onto a baking sheet lined with parchment paper.
Step 5
Bake dates for 18-20 minutes, flipping them halfway through, until the bacon is cooked through and crisp. Remove from oven, let cool slightly and enjoy!