Things You'll Need
Medium bowl

Water

Small bowl

Dried seaweed

Dressing

Colander

Serving bowl

Tongs

Vegetables and fruits, optional

Garnishes, optional
Seaweed is a nutrient-rich food that you can easily turn into a tasty and refreshing salad. Dried seaweed is readily available in Asian markets, health food stores and some traditional grocery stores. Within 10 minutes, you can rehydrate the seaweed and toss it with optional add-ins and the dressing of your choice. Use wakame seaweed or an assortment of seaweeds as your base, tossing them with your favorite vegetables and garnishes to create a healthy, flavorful salad.
Step 1
Fill a medium-sized bowl with cold water and soak the dried seaweed to rehydrate it. Soak the seaweed for about five minutes for a more crunchy texture, or for 10 minutes or longer for more tender seaweed.
Step 2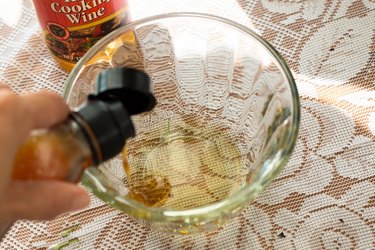 Prepare the ingredients for a dressing in a separate bowl while the seaweed rehydrates. Make your own Asian-inspired dressing with ingredients such as rice vinegar, sesame oil, soy sauce and sugar, with ginger and salt to taste, or purchase a store-bought dressing.
Step 3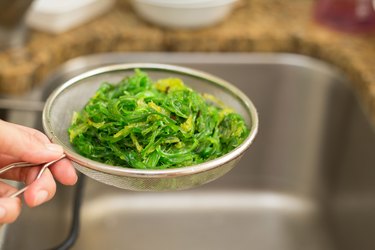 Drain the seaweed in a colander. Lightly squeeze it with your hands to remove excess water that could make your salad soggy.
Step 4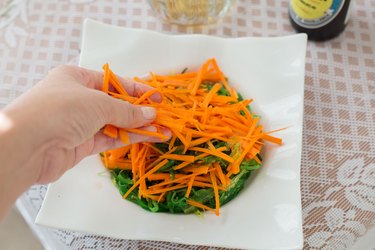 Place the seaweed in a serving bowl. If you like, mix the seaweed with other greens or finely cut pieces of vegetables, such as carrots, beets or cucumbers. Or add sliced citrus fruit, such as orange, grapefruit or apple, to increase the volume of the salad while offering texture and extra flavor.
Step 5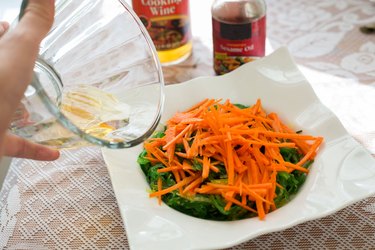 Pour the dressing over the salad and toss it to coat the seaweed.
Step 6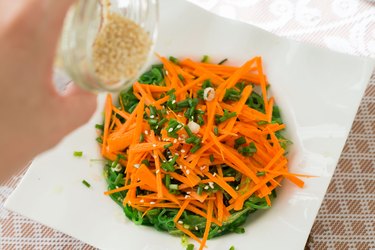 Garnish the salad with scallions, or add texture to the salad by sprinkling it with 1 to 3 tablespoons of sesame seeds, crushed peanuts, puffed amaranth or puffed quinoa.
Tip
Find puffed grains, such as amaranth and quinoa, at specialty stores and health food shops. If you can't find what you're looking for, toast the unpuffed grains in a deep skillet over medium heat. After adding the grains to a hot pan, stir them until you hear them pop, usually within roughly 10 seconds. Remove the now-puffed grains from the pan to keep them from burning.