Things You'll Need
Vegetable oil

Diced chicken or meat, optional

Chicken broth or vegetable broth

3 or 4 cloves garlic

1 medium onion

1 pack egg noodles

Green onions or scallion

Carrot

Chives

Mushroom

Salt, pepper and sugar for taste

Soy sauce

Cilantro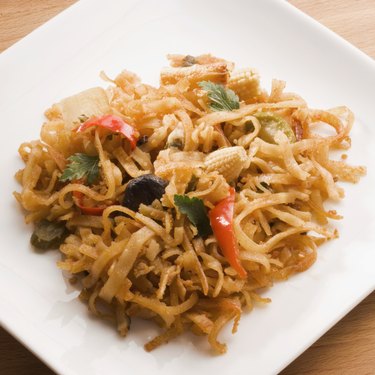 In less than 30 minutes, you can have a simple and delicious stir-fry noodle dish ready to serve. Use a vegetable broth for a vegetarian version or add leftover diced chicken or ground meat for a heartier meal. For the noodles, you can use plain Ramen, spaghetti or even a flavored linguine. This is also a great way to stretch the budget by using up extra vegetables before they spoil. Depending on the ingredients you have on hand, this dish could turn out differently every time.
Step 1
Boil a pot of water and cook the noodles according to the instructions on the package. Aim for al dente, which is when the pasta is tender but slightly firm. Do not overcook the noodles. Drain the water
Step 2
Heat 4 tablespoons vegetable oil in a frying pan or wok. Add diced garlic and onions and cook until they are light brown and fragrant.
Step 3
Add diced chicken or meat and stir-fry for a few minutes until it is almost cooked.
Step 4
Add the mushrooms, carrot and chives to the pan. Season with salt, pepper and a little bit of sugar. Add the broth, bring the liquid to a boil and then reduce the heat.
Step 5
Add the noodles and soy sauce, stirring until well mixed, and then add green onions or scallions. Taste and add more seasoning if needed.
Step 6
Serve with a garnish of cilantro.