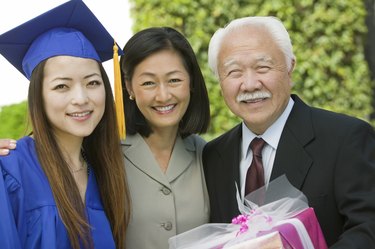 Graduates are not the only ones who get gifts during this important milestone. Parents also deserve gifts to symbolize the graduate's gratitude for both financial and moral support or as congratulations from friends when a child graduates. Purchase a gift based on the parents' interest to ensure they will use or enjoy the token of appreciation.
Personalized and Homemade
Gifts that are personalized or made from scratch by the giver are always appreciated. Give them personalized mugs, plates and witty shirts with various prints. A collage of your favorite pictures mounted on a simple frame also shows the effort and thought that you have put into the gift. Play to the parents' interests. For example, if they are into gardening, assemble a gardening tool kit with some seeds, new set of gardening tools and coffee-table books. If they enjoy wine, assemble a basket of manchego, Gruyere and cheddar cheeses along with several bottles of wine.
Useful and Practical
A digital photo frame is a useful and practical gift choice for parents. This saves them a lot of money in the long run; instead of printing pictures, they can just update the contents of the digital photo frame. For a nice surprise, preload the frame with photos of the student and parents throughout the years. Load an e-book reader with a few of their favorite books on their to-read list as another useful gift, or purchase a gift card so they can download their own selections. Think of items that need replacing at home and give them an upgraded version of it, even if it is as simple as a microwave oven, computer chair or flat-screen TV.
The Splurge
If you have saved up plenty of cash, consider booking a vacation for your parents. Think of a place that they have long wanted to visit, then secure the tickets. It can be as simple as a museum in a nearby city or as elaborate as a romantic weekend in their favorite city. Another idea is to give them gift certificates to a spa so they can enjoy and pamper themselves minus the guilt of having to spend for it.
Bags of Love
A customized bag offers another gift parents may enjoy. Choose from bags to personalize such as canvas tote bags, makeup kits, laptop slipcases and messenger bags. Select favorite photographs, quotes, places of interest or even memorable sayings from your parents as items to print onto the bags. Online boutiques, custom printing sites and individual retailers offer customizable bags.