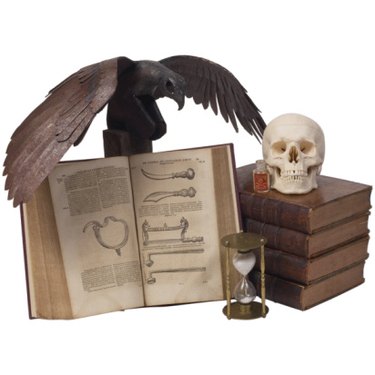 Dressing up as your favorite character from a book can be an enjoyable and easy Halloween costume. Many characters have identifiable attributes that make them recognizable to most people. Dressing up as your favorite book character is also an idea for costume parties or other creative parties.
The Cat in the Hat
"The Cat in the Hat" by Dr. Seuss is a perennially popular children's book. The main character is well-known and recognizable by all ages. The Cat in the Hat's tall red-and-white striped hat is his most famous trait. Black pants and shirt, white gloves and a big red bow tie complete the Cat in the Hat costume.
Madeline
Written by Ludwig Bemelmans, the "Madeline" books have been classics since the 1940s. Madeline wears a navy blue skirt with matching shirt and jacket, a white-and-red collar and a yellow straw hat with a black bow. Red hair and a scar on your stomach finalize the Madeline costume.
Harry Potter
J.K. Rowling's "Harry Potter" series comprises some of the best-selling books of all time. Children and adults have been captivated by the series. A Harry Potter costume is relatively simple to put together. A black robe, white collared shirt, red tie, yellow-and-red striped scarf and glasses create an authentic Harry Potter costume. Adding freckles to the cheeks and a lightning bolt forehead scar also contribute to the genuine Harry Potter look.
Oliver Twist
Charles Dickens' "Oliver Twist" depicts the life of the poverty-stricken orphan Oliver Twist, a tale well-known in books, movies and musical theater productions. An Oliver Twist costume is made up of simple, shabby clothes with rips and stains and a soot-powdered face. Clothing should ideally have the look of mid-1800s London.
Edward Cullen
The heartthrob of the "Twilight" novel series, Edward Cullen is a dark and mysterious real-life vampire. His character has also been made famous by the popularity of the "Twilight" movies. Wear a gray pea coat, slicked-back hair, a powdered white face and dark eye makeup for the Edward Cullen persona.
Ponyboy Curtis
Ponyboy Curtis is the main character of S.E. Hinton's novel "The Outsiders." Ponyboy Curtis is a good example of the 1950s "greaser" look, which relies on tight jeans with rips, a plain white T-shirt, a denim or leather jacket and cigarettes rolled in sleeves or placed in the back pocket. Fake costume cigarettes are available through most costume stores.