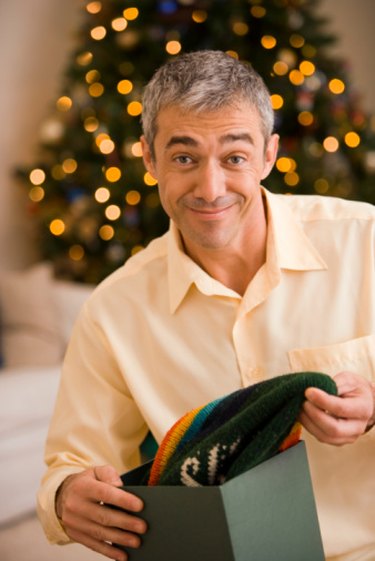 Gift shopping is hard enough, but if you're shopping for a man with no hobbies it can be downright frustrating because hobbies and passions are often used as inspiration for gift ideas. If you find yourself in the position of shopping for a hobbyless man, don't panic. Gifts can also be practical and utilitarian. When you look at it that way, you'll find there are plenty of gift-giving options.
Clothes
Even though he has no hobbies, he has to leave the house sometime. He can't do that naked. If he has a job that requires more upscale attire, a sports jacket or suit, dress shirt and tie could be apropos. Throw in some personalized cuff links, a belt and some dress socks to round out the gift. On weekends, he'll need something to wear while he's doing nothing. Jeans or chinos, polo shirts, T-shirts and pullover sweaters will take care of the problem. Sweat socks and underwear make good stocking-stuffers for Christmas.
Watch
Since he has no hobbies, put your entire gift budget into buying him a top-of-the-line watch. A hobbyless man is not necessarily without style. Brands such as Cartier, TAG Heur, Hermes and Gucci say, "I may be boring, but I have darn good taste." Consider his preferences and needs when selecting a specific watch. Does he prefer metal bands or leather? Does he lean toward chronograph styles or prefer streamlined simplicity? Is he a man who likes gold or silver? With that information in hand, you can select an appropriate model.
Food
Everyone has to eat, so a food gift works well for the hobbyless man. A food gift can be given in any number of ways. Most men like a good steak and there are numerous online retailers who will put together gift packs of his favorite cuts. Another option is homemade treats. This could range from soups and casseroles to sweets such as fudge, brownies and cookies. Place them in a festive container and wrap a bow around it. Dinner at his favorite restaurant is another way to go. You can take him yourself or present him with a gift certificate.
Gift Cards
When all else fails and you're at your wit's end, you can always let the man with no hobby buy his own gift by giving him a Visa or MasterCard gift card. You determine how much the card is worth, and the recipient can then use it anywhere Visa and MasterCard are accepted. You can also personalize the cards with photos and messages and add a customized greeting card in which to present it. Who knows? Maybe he'll use it to start a hobby.