Eleven-year-old girls are tweens, which means that they are at a stage between being a child and being a teenager. Get a personalized item to demonstrate that you love the girl. Appropriate gifts show that the girl is becoming a mature young woman who handles her responsibilities well.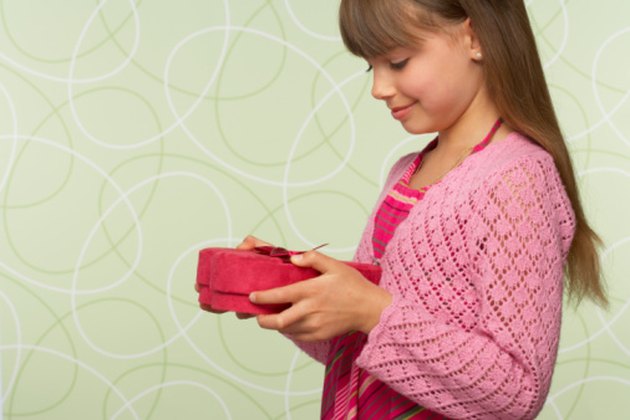 Board Games
Some 11-year-old girls enjoy playing board games with their friends and family. Purchase a game that relatives should enjoy playing at holiday events so the girl has people to play with her. Eleven-year-old girls are typically able to play complex and strategic games, such as chess. A pink and lilac chess set might be a strong fit for a girly girl. Or get a American Girl 300 Wishes Board Game that the girl can play with her friends.
Gift Cards
Gift cards are appropriate for a girl's 11th birthday because they can teach her financial responsibility. The girl can learn to budget the money on her gift card wisely to get items that she wants. Get the girl a gift card to a local fashion retail store that has tween clothing and accessories. Or personalize a debit card gift card with a photo and the girl's name as well as a sentimental message.
Clothes and Accessories
Eleven-year-old girls typically enjoy staying up with the latest trends that their friends wear. Purchase some classy items of clothing, such as white button-up shirts and flats. The girl might want to dress more like a grownup now, but show her that she can dress appropriately for her age. Get shirts that barely show the girl's clavicle so she learns to dress modestly. Some 11-year-old girls begin to dumb themselves down for guys, so show her that her body is a temple.
Books
Books are a good-quality gift idea that can help the 11-year-old respect herself for her intelligence. Get a book that is part of a series that the girl might enjoy, such as "The Babysitters Club" by author Ann Martin. Randomhouse.com's article "18 Highly Recommended Books for Girls" says that an appropriate book for an 11-year-old is "Island of the Blue Dolphins," a Newbery award-winning book by Scott O'Dell.