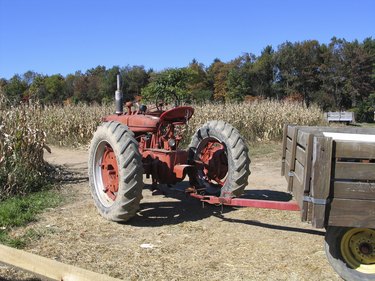 Haunted hayrides are a Halloween staple for those seeking a good scare. When creating a DIY hayride, coming up with scares can be difficult at first. However, dividing it into sections and focusing on ways to build suspense will make your hayride scarier than just jump scares.
Use the Natural Landscape
The best way to brainstorm haunted hayride ideas is to get a sense of the route. Survey the planned route at the time the hayride will run and note any clearings, wooded areas, fields and other locations of interest.
When planning a haunted hayride, divide the route into sections, such as places where the hayride will stop to allow passengers to assess the scene and sections where the hayride will drive through. Consider your time and resources to determine how many sections you want to create.
Use scenes to create suspense for the passengers. By stopping to assess a scene, you can build dread as passengers take it in, waiting for something to jump and startle them. When something doesn't, the passengers will be on edge until something does. Drive-through sections are the perfect time for actors to emerge from the shadows and startle unsuspecting passengers, especially after building suspense from stopping at a scene.
Hayride Ideas: The Devil's in the Details
When planning each stop or section on the hayride, consider telling a story. It doesn't necessarily have to be a story with a beginning and end but more of a bare-bones overarching theme. For example, the Los Angeles Haunted Hayride's 2021 attraction centers around the witch of the woods, who summoned the spirits of the underworld to seek revenge on the people who enter the town through the hayride.
A theme gives you direction and a jumping-off point when brainstorming hayride ideas. The best themes are broad enough that you're not confined to a specific story and instead have a platform to build your hayride.
Hayride Ideas: Play With Lights
Best used for nighttime hayrides, lights are an easy way to create a spooky atmosphere. Bathe a scene in red light to add an ominous, sinister atmosphere or create the sense of passing through a portal by driving through an area in green light.
You can use pairs of lights to create the illusion of eyes in the woods or cornfields watching the passengers. Set them to motion detectors so they will light up as the hayride passes through.
Hayride Ideas: Play With Sound
Music is a great way to build suspense and can easily be added with a Bluetooth speaker in the hayride. It doesn't have to stop with music. Pump spooky sounds through the speaker, like rustling in the trees, sinister growls and ghostly wails.
While audio can be effective in building suspense, the lack thereof can be just as powerful if not more so. When everything goes silent, passengers will be on edge. Play with their expectations using sound.
Hayride Ideas: Stalking Monsters
Create an ominous sense of dread with a monster following the hayride in the shadows. You can take inspiration from the Headless Horseman hayride event, which converted its hayride to a walking trail. Visitors search for Pumpkin Jack and come face to face with the Headless Horseman.
If passengers know there's a monster lurking in the shadows, they'll be looking for it. Use this to your advantage by redirecting their attention to something else and pouncing when they least expect it.