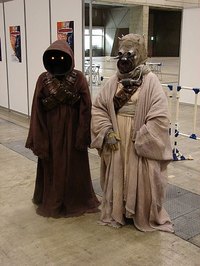 Here are some good ideas on how to make a Halloween costume hooded cape, cloak, or robe for Princess, vampire, pirate, easy witch cape, or superhero for free. It's so romantic and dashing to wear a Halloween Costume hooded cape or robe for vampire, pirate, witch or superhero as your Halloween costume. It makes the Halloween costumes look adventurous and adds pizzazz.
Hooded Cloaks, Capes and Robes can be so mysterious!
For adults, kids, children and toddlers, it's very fast and easy to make a hooded cape for a vampire, king, queen, bride, princess, pirate, witch, superhero costume or even a Star Wars caped costume like a Jedi robe out of a bedsheet with light saber for free. If you are in a cold climate it could be a warm cape if you make it out of a heavier material or blanket that you already have. Depending on the size of the material, you can make a short, hooded cape or long, hooded cape. You could add glitter, or wear a mask under the cape to make it more fun to wear and it would be a cuter costume.
Here are some tips:
Things You'll Need
Material, light to heavy depending on the weather where you live.
Decorative pin for a closing
Safety pins to secure the material
Find the material you wish to use. A good width is 60 inches and at least 60 inches long. The length really depends on whether it is for a child or adult. You can also use a bed sheet that you already own. That way the Halloween cape is FREE. It can handily be folded up and stored until the next year and then used for a different costume. Follow the easy steps and have a great time on Halloween!
To make and wear a Halloween Costume cape or robe for vampire, pirate, witch or superhero as your Halloween costume, hold the material up and fold in half the long way. Keep your finger in that middle fold. This will be the top of the hood for the Halloween cape or cloak.
Now open it up and place the middle fold on the top middle of your head, which then drapes over both your shoulders evenly, much like a tent canopy.
Pull it forward over your face a couple inches to make a nice overhang. You could also fold this back to see better or leave it forward for a little mystery. This will also make it look romantic. At this point it falls straight off your head down your shoulders and may be awkward.
So that you can move your shoulders comfortably, pinch a bit of the material on the back of each shoulder and pull it forward to make a 4 or 5 inch "shelf" or fold on top of your shoulders and help secure the hood.
In the front, pull the edges of the "shelf" together and overlap them, holding the edges tight.
Pin through all the overlapped layers to secure the hooded cape, cloak or robe. Use a piece of jewelry or a large safety pin to secure it.
If there is nothing available to secure the Halloween cape, then hold the front together tightly with your hands, grabbing all the layers of the "shelf" and hood and don't let go. Try to find something to secure it with however so your hands will be free.