Gifts are a way to show your love and appreciation for someone. Items, such as flowers and candy, may be considered impersonal. If you want to get a gift for women in the 55- to 60-year-old range, several options are available. For instance, gift baskets can include items she enjoys, such as novels and classic movies. For gift ideas for an older woman, include ones that are personalized as well as entertaining.
Gift Baskets
For a woman who knows her way around in the kitchen, fill up a basket with spices from all over the world. Include a cookbook so she can create new masterpieces. Fill up a basket with several kinds of pastas and sauces. For coffee and tea lovers, give her a basket filled with gourmet coffees or herbal teas. Include treats to nibble on with her coffee, such as doughnuts and cookies. For a wine drinker, give her a basket containing her favorite type. Create your own personalized label with her name, brand and year of the wine. Include grapes, cheese and crackers to snack on while sipping.
Music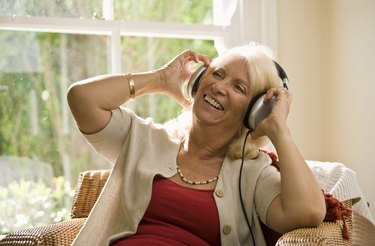 Purchase a subscription to an online music downloading site. She can download her old favorite tunes. If she's hanging onto her record player in lieu of the modern CD player, check online sites that specialize in selling used vinyl records, or visit a local music store that carries the classics for collectors. Purchase some records and present her with all her favorite oldies, such as Frank Sinatra or the Supremes.
Trips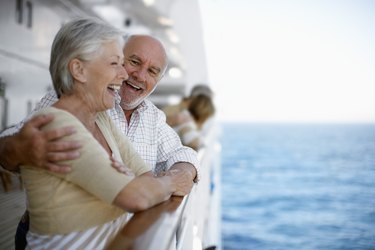 Pack a bag, and send her on a trip of a lifetime. If funds permit, give her an all-expense-paid trip to a location she has always wanted to visit, such as Italy or Thailand. Give her a trip for two to a Caribbean destination. A seven-day cruise on the high seas may be the break she needs from her daily routine. Give her a weekend at a local hotel. She can bring a friend or go it alone for some relaxation time.
Activity Gifts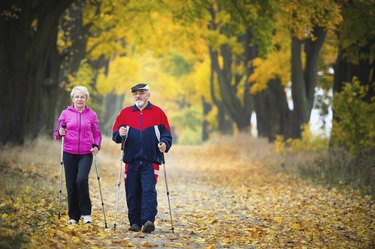 For a woman who is into staying fit, give her a year's membership to the gym. If she prefers to workout at home, surprise her with a treadmill. For a woman who enjoys walking and hiking, give her a new pair of walking sneakers. Include ankle and wrist weights for an extra challenge. If you know her size in active wear, give her a new jogging suit. For a yoga buff, give her a brand new yoga mat. She can change her routine with a new instructional yoga CD.