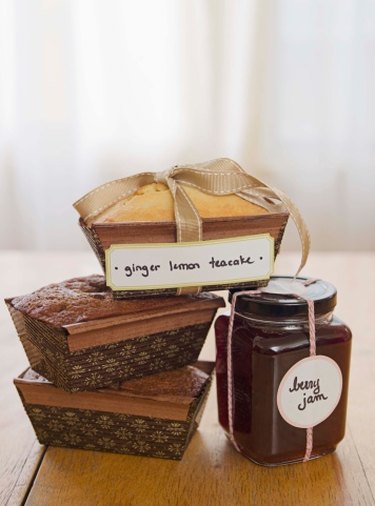 Homemade gifts show your boyfriend that you care on a special occasion like a birthday or anniversary. Taking the time to make something shows thought and effort and it also enables you to give him a gift that is personal and unique to him and your relationship. Don't worry if you don't have much time to make a homemade gift; there are lots of last-minute things you can do that are just as special.
Love Coupons
Love coupons are a fun and personal gift for your boyfriend that you can make at home quickly and easily. Use your computer or your drawing skills to create a coupon with your boyfriend's name on it, promising him something he will like when he redeems it. For example, offer him a romantic dinner, a full body massage or a day that he is in charge of the remote control. Decorate the coupon with symbols of your love and sign it with your name.
Photo Album or Frame
Create a photo album of your favorite pictures together or enlarge and frame one photo in particular. If you have a computer and printer you can do this at home; just make sure you have a photo frame or album handy. Otherwise, photo printing companies can do this for you in a matter of hours. A nice finishing touch is to provide a caption or comment to your photos about when and where you took it so he can cherish each memory for years to come.
Food
People say that the quickest way to a man's heart is through his stomach, so cook him his favorite meal with all the trimmings. Get the best ingredients and lots of them so you can cook a three-course meal that he wont forget. Team it with his favorite drink and background music, and dress the table with candles and your best matching china. If you're not cut out for cooking an entire meal, or you just don't have the time, bake him his favorite cake or cookies and don't forget the candles.
Music Compilation
Write a list of all of your boyfriend's favorite songs and the tunes you have loved and shared as a couple. Compile a playlist, putting each song in categories so it flows like a proper music compilation, for example starting with the more upbeat tunes first and gradually introducing slower, more meaningful songs towards the end. Burn the songs onto a CD if you have a computer with this facility, or create a playlist on your computer that you can load onto his MP3 player.