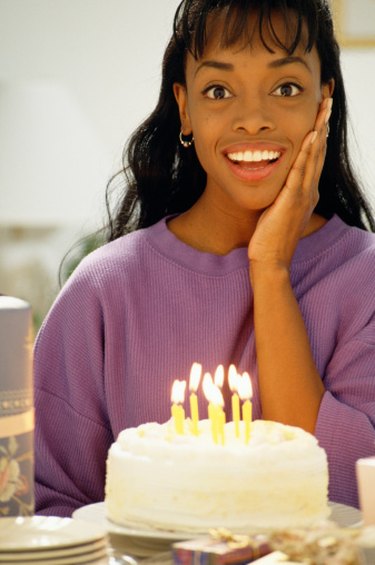 Turning 18 is a rite of passage that goes beyond most birthdays, as it signifies a person becoming an adult and legally responsible for herself. Most kids dream of becoming an adult, which makes her 18th birthday party a special occasion to celebrate with friends and family. Gather everything you need to make her party a success, creating everlasting memories.
Preparations
Purchase invitations or supplies to make your own invitations for the birthday party. The invitations should make it clear the party is for the celebrant's 18th birthday, either by having the phrase "18th birthday" or confetti shaped like the number 18. The invitations should also include something personal to the celebrant, such as images or words that tie into the party theme or his favorite colors. Keep track of who's coming with a guest list, which will also help you make sure you invite all his close friends, family or both.
Decorations
Party decorations will set the mood and tone of the party. Avoid balloons and streamers if the birthday celebrant would prefer something fancier for her 18th birthday. Include a banner, either matching the party theme or a traditional birthday banner, that includes her name and age. Use the number 18 in the decorations when possible, such as hanging metallic decorations, centerpieces or confetti. Use themed decorations if appropriate, such as tiki torches for a pool party or faux Roman statues for a toga party.
Activities
Supplies for any activities or games are necessary to make the party run smoothly. Include favors or gifts for anyone who wins. For example, print out scavenger-hunt lists and supply digital cameras if you plan on having a scavenger hunt. Get some kind of prize for each team or the winners only. Book a DJ or put together a play list with speakers if you want music playing in the background or if the party is taking on a dance style.
Food
Put together a menu, whether you're serving a full meal or light snacks only. Include the birthday celebrant's favorites or food that complements the theme of the party. A tropical pool party might include a luau, a formal dance theme might include fancy hors d'oeuvres or an informal scavenger-hunt party might include a barbecue or pizza. Light snacks and finger foods will allow guests to mingle and move around, whereas a formal meal will require tables and chairs. Use fancy dinnerware for a formal dinner party or paper plates and napkins with the number 18 for a less formal party. Provide cutlery and garbage bags as well. Drinks can range from basic soda options to fancy mixed drinks sans the alcohol.