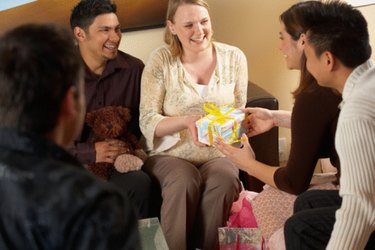 There are a lot of things you have to think about when you are planning a baby shower: Apart from the invitations, decorations, party music and activities, you will also have to think about what kind of food you want to serve your guests. If you decided to go with the baby theme for the food, there are a lot of different ways in which you can make the food baby-related.
Baby Cupcakes
Cupcakes are a fantastic choice of party food, as they come in a lot of flavors and will usually please everybody. They are also simple to connect to the baby theme. Either make the cupcakes really small and introduce them to your guests as "Baby Cupcakes," or write the word "Baby" on them with icing. A more extravagant thing to do is to buy or make baby-related marzipan decorations -- such as rattles, milk bottles or cradles -- and put them on top of the cupcakes.
Baby Sandwiches and Finger Foods
Sandwiches are another thing you can't go wrong with, as you can put almost anything on bread and call it a sandwich. Make the sandwiches so small they will be only a bit bigger than bite size, and call them baby sandwiches. Another idea is to go with finger foods like mini quiches baby shrimp served in a cocktail or with dip.
Salads
Salads work well especially in warmer months, when lighter food is more appropriate. If you go with salads, make them out of vegetables that have the word baby in their name. Examples of such vegetables are baby carrots, baby corn and baby peas. Mix and match these vegetables with other vegetables, but name them after the baby vegetable in the salad nonetheless. For example, a salad you made with baby corn is "a baby corn salad," even if you put other vegetables in there as well.
Cookies
If you like baking, there are many foods to create that will work with your baby food theme. Bake cookies shaped as babies or baby-related items, like rattles or milk bottles. If you want to keep it simple, bake normal-shaped cookies an write words connected to babies on them. Apart from the word "Baby," you can also write "Goo goo Gaa gaa," as an example of the noise babies make.