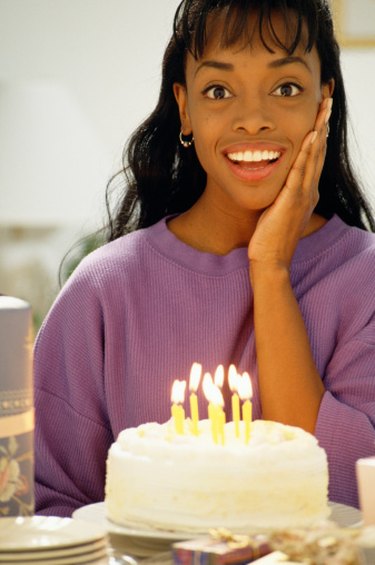 A "golden birthday" is a recent concept. It isn't the 50th birthday, as you might expect, but the birthday that has the same numerical value as the day of the month you were born. So a teenager turning 15 on the 15th of the month would be celebrating his golden birthday. Since a golden birthday occurs only once in a person's lifetime it's a special occasion deserving of special recognition.
Gold Presents
The best way to honor the significance of a golden birthday is with a gift that is actually made from gold. Examples of golden gifts include gold jewelry such as necklaces, charms, bracelets and earrings. You can also buy golden keepsakes such as key chains, picture frames or money clips. If you are on a budget, consider golden gifts made from faux gold such as costume jewelry or creative gifts such as chocolates wrapped in gold foil.
Personalized Gifts
Teenagers celebrating their golden birthday will appreciate gifts with a personal touch that help to commemorate the special occasion. Consider metallic photo frames and key chains that have been engraved with a personal birthday message and the date of their golden birthday. Custom-embroidered t-shirts, baseball caps and other apparel items make good gifts to celebrate a golden birthday. Sometimes the best gifts are the ones that are made with care, so consider making a fun scrapbook filled with old photos, memories and inside jokes.
Birthstones
Birthstones are precious stones that traditionally signify your birth month. A good way to celebrate the specialness of a golden birthday is to give a gift containing the teenager's birthstone to be a keepsake of the day that she was born. Birthstones are typically used in jewelry such as pendants, earrings, charm bracelets and rings. A majority of birthstone jewelry is geared towards females, so for teenage boys a birthstone key chain may be better.
Commemorative Newspapers
A fun way to celebrate a teenager's golden birthday is with a copy of a newspaper from the day that he was born. Teenagers will be interested to see what historical events were taking place on the day they were born and how our culture has changed since then. Commemorative newspapers can be presented in a personalized frame or given as is to trick the teenager into thinking it's a current newspaper. You can even have the newspaper made into a jigsaw puzzle, adding another level of fun.