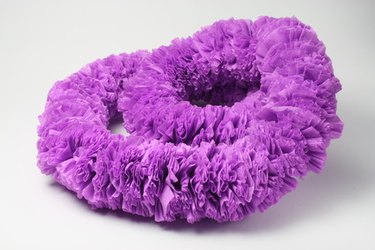 Warm colors, tropical foliage and sweet, spicy food make up the best Hawaiian luaus. Transform your backyard into a luau setting with potted palm trees, flickering tiki torches and languid hula music, but focus special attention on table settings to reinforce the party theme. Incorporating too many luau table setting ideas can look cluttered or tacky, so pick a just few favorites for an elegant luau feast.
Table Covering
For a playful table backdrop, choose raffia skirts resembling hula skirts to encircle buffet tables and dining areas. More elegant table settings use single-color tablecloths in rich tones like olive or fuchsia. If you're using particularly vibrant table decorations, opt for a crisp white tablecloth to showcase the surrounding colors.
Leis
No luau is complete without colorful leis to honor and welcome guests. Incorporate leis into table settings by draping a lei across the back of each chair, resting the lei on the chair's seat or piling a lei onto each dinner plate. Budget-conscious hosts can use plastic or silk leis; floral leis are beautiful, but can be expensive.
Tableware
If you're going for classic kitsch, use brightly colored paper plates emblazoned with tropical flower prints, dancing hula girls or peeling surf. This might look too loud at tables already featuring numerous luau-style decorations. If so, play it down by sticking to one-color plates in jewel tones including fuchsia, royal purple, turquoise or marigold. For another option, use plastic, shell-shaped plates to showcase seafood offerings. Or go for natural luau tableware with wood-grain bamboo plates and ceramic glasses.
Napkins
Keep the luau vibes flowing with tropical-printed bandanas for use as napkins. Or, use solid-colored napkins in bright colors, anchored by a single orchid or tropical flower blossom. If it's a daytime bash, tuck napkins into folded pairs of inexpensive sunglasses that double as party favors.
Decorations
Scatter small Hawaiian-style decorations across tables for a casual, beachy look. Plastic lobsters, sea glass and tiny inflatable palm trees will set the mood. Luau centerpieces can feature fresh pineapples festooned with little cocktail umbrellas or gold trays heaped with fern leaves, pineapple wedges, maraschino cherries and green peppers. Carve watermelon to resemble a whale, filling the cavity with melon balls, grapes and fresh berries for an edible piece that shows off your artistic abilites. Smoked-glass lanterns or citronella tea lights add mood lighting, while upside-down beachcomber hats can hold peanuts or candy.
Flowers
Hawaiian culture reveres fresh, fragrant flowers, so incorporate blossoms into your luau table settings. Orchids, hibiscus, heliconia, bird of paradise and lilies are classic tropical blooms. Place dark baskets of flowers around the table, or float loose petals in glass water bowls.