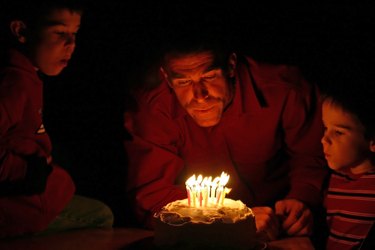 Let your loved one know how special she is on her birthday with a meaningful birthday wish, and give her the best birthday wish she's ever received. Write these wishes inside of handmade cards, or deliver them in a celebratory birthday speech. Choose words that convey the message you want her to know most.
Birthday Thoughts
Make birthday wishes extra special by tailoring them to the birthday guy. Create your own birthday wishes by telling that special someone how much he means to you, or mention something he does that makes you proud of him. You could write his name as an acrostic poem -- have each letter represent something important about him. Send heartfelt birthday wishes from lines of your loved one's favorite poem or fiction work. Research quotes and share them with your friend. Choose quotes that are meaningful and express what you'd like to say.
Example Birthday Wishes
In an article titled "200 Happy Birthday Wishes," Wish Quote.com suggests this thought: "Happy Birthday, my dear friend. I don't know if I can ever let you know just how much you mean to me. I can't imagine where I would be without you. You have changed my life for the better." Another gem of a birthday message is found on the site Birthday Wishes.com: "On your birthday, there are so many people who are thinking about you. But none of them can love you the way I do! Wishing you all the best today and throughout the coming year!"