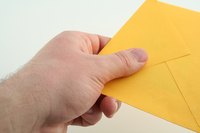 Throughout the year, companies often host events after work hours to foster employee camaraderie and celebrate holidays and other special events. Such an event can be as simple as an after-work happy hour at a nearby restaurant or something as elaborate as an extravagant holiday party in a hotel ballroom. The invitations to these events need to reflect their tone and tell employees whether they can bring guests. Therefore, wording is key when composing invitations to a company event.
State the name of the event clearly on the first line of the invitation to reflect how casual or formal the event will be. For example, use casual phrasing like "Join us for the fifth annual Perry Manufacturing picnic!" for an annual company picnic. Use more formal wording like "You are cordially invited to the Matrix Industries Holiday Party" for a formal holiday party.
Give the time and date. Use a casual phrase such as "Saturday, July 26, 2010 at 12:30 p.m." for an informal event, but spell out numbers for formal events, such as "Saturday, the tenth of December at six o'clock in the evening."
Specify the location. For a post-work happy hour in the break room, write your office name, like "ETD Technologies," on the invitation. If the event is off-site, give the address of the place at which it will be.
Ask for a response, if necessary. Casual events might not require an RSVP from employees, but more formal events need them, especially if the company plans to provide full meals. State "Please reply by December 1 to Mike Thomas" for the formal events. Provide a name without contact information for replies since the employees should know how to contact a fellow employee. Include an email address or phone number if it's a large company.
Indicate who can attend. Unless stated otherwise, the invitation implies that only the recipient can attend. Indicate at the bottom of the invitation if the event includes an employee's spouse or family, such as "Please bring a guest to the celebration" or "Your family is welcome to join us at the picnic."