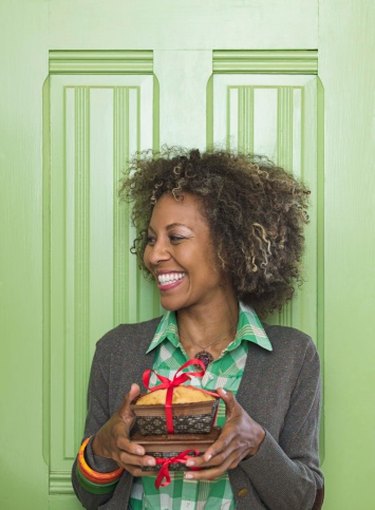 As a mother- or father-in-law, it is important to realize the importance of constantly revisiting your relationship with your daughter-in-law. In the popular media, in-law relationships are treated as constantly negative, and the stresses of being in that type of relationship can in fact negatively impact your relationship with your daughter-in-law. To make your daughter-in-law feel truly loved, make sure to choose the perfect gift for her.
A Night Out
Many daughters-in-law, especially those with children, would most appreciate some special time together with their husbands. Buy your daughter-in-law a gift certificate for two to a favorite restaurant, as well as your own homemade coupon for free babysitting (if applicable). Obviously, this gift only works if you live nearby or will be visiting for an extended period. If possible, allow your daughter-in-law to choose the timing of the night out based on her convenience.
Sentimental Gifts
You can shop online for various sentimental gifts for a daughter-in-law, such a personalized picture frame that contains a photo of the two of you and a loving message. A sentimental gift that may be overlooked, however, is a collection of your memories of your son -- her husband. You can write a list of your favorite memories from your son's childhood or give your daughter-in-law a box of objects that represent your son's childhood. Either of these should be accompanied by a note expressing your appreciate to your daughter-in-law for being there for your son, as well as your desire to share a bit of your son's past that she may not be familiar with.
The Pampered Daughter-in-Law
Women are busier and busier these days. Your daughter-in-law may enjoy being pampered a bit by your gift. Consider getting your daughter-in-law membership to a gym, a massage, an evening at a spa, or a manicure and pedicure for her and a friend. Any of these can help your daughter-in-law feel cherished and pampered, which can only improve your relationship.
Gadgets and Gizmos
Whether your daughter is a high-powered executive or a stay-at-home-mother of several children, you can always find a gadget that will make her life easier. Some women enjoy high-tech gizmos, especially those related to the uses she normally has for the computer. Other women may prefer a gadget that makes kitchen work or other housework easier, such as a hand-held blender for soups. Think about your daughter-in-law's schedule to figure out whether any gadgets could make her life easier.