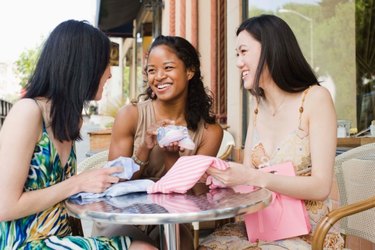 Whether an expectant mother is awaiting the arrival of her first or her fifth baby, she is experiencing one of the most joyous times of her life. Baby showers are festivities in which parents-to-be invite their closest friends and family in order to celebrate the impending birth. Apart from the traditional gift giving aspect of baby showers, they typically involve a variety of foods and appetizers.
Boy and Girl Themes
If an expectant mother is already aware of her baby's gender, one sweet way in which to celebrate is by preparing desserts that are themed either blue or pink. For boys, blueberry desserts should do the trick. For girls, strawberry flavoring generally works. Some boy-friendly blue dessert options include blueberries and lemon cream, blueberry cream pie, blueberry tarts, blueberry crumb pie and blueberry crisps. Girl-friendly pink dessert ideas include strawberry cupcakes, strawberries and cream and strawberry ice cream.
Finger Sandwiches
Neatly cut finger sandwiches are all the rage at parties, including baby showers. Finger sandwiches are convenient due to their small size, ability to sit out for a while and also the fact that they are not messy to eat or serve. For a dainty, English-influenced "afternoon tea" concept, make cucumber sandwiches. Other choices include tuna sandwiches, ham and Swiss cheese sandwiches and, for affordability, mini peanut butter and jelly sandwiches.
Salads
Salads are a relatively easy and delicious choice for serving at baby showers, especially due to the fact that although they are more filling than appetizers, they also are light. Some innovative and creative ideas for baby shower salads include broccoli salad, pear salad, tortellini salad, shrimp salad, chicken taco salad, cucumber and sour cream salad and banana nut salad.
Hors d'Oeuvres
Mini hors d'oeuvres add a nice touch to parties, including baby showers. Apart from being tasty, hors d'oeuvres have a cute appearance, and are easy to serve on platters. Some interesting ideas include miniature pizzettes, deviled eggs, spinach or seafood dip, bruschetta, Swedish meatballs, pigs in a blanket, stuffed mushrooms, miniature quesadillas, bacon bite skewers, cold cuts, blue cheese balls and chicken lettuce wraps.