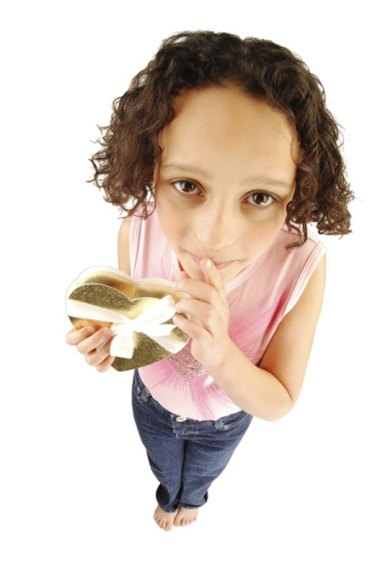 In a Secret Sisters program, women in a workplace, club or church choose a card with another member's name and place a gift or special card in a common area for their secret sister periodically throughout the year of the program. Many groups suggest inexpensive items throughout the year, with a more significant gift at the time of revealing who you are to your secret friend.
Follow a Theme
Choose one of the interests your church friend has written on her secret sister card. Give gifts that follow the theme of that interest throughout the gifting time period. Alternatively, follow the theme of church itself. Christian music or films, plaques and pillows printed with Christian phrases, Christian-themed collectible figurines and even everyday items with Christian phrases printed on them will delight your secret sister.
Candy Messages
Determine the type of sweet or diabetic treats your secret sister enjoys. Draw or print from your computer a candy bar wrapper with a Bible verse, or print a poem or verse to staple to a bag of unwrapped candies. Consider adding a note to a treat item that incorporates that item in the note. For instance, write "You are a stick-to-it-tiveness kind of lady" on a pack of gum, "Star of a friend" on a bag of star chocolates, "When things get hot, give prayer a shot" on a bag of cinnamon hot candies, "You are special in God's heart and mine" for candy hearts or "You are beary special" for gummy bears.
Meaning of Name
Buy or make a plaque or bookmark with your secret sister's name printed on it. Look in a baby name book or online to discover the meaning of her name and print that onto the item, as well. Most books and online sites also give variations of a common name to help you match your friend's name as closely as possible to the original name's meaning. You may also consider asking a family member how your secret sister got her name, which will make the plaque or bookmark especially thoughtful and treasured.
Scriptures and Devotions
Purchase a wall calendar that includes a Bible verse for each month or a desktop calendar that features a verse for each day. Some calendars include devotional thoughts, as well. Consider a journal with scriptures and devotional thoughts for each day to allow your secret sister an opportunity to write her personal thoughts or prayers in a journal. Books of Bible promises, devotional thoughts or scriptures for a certain time in a woman's life or based on a particular theme will also make an appreciated gift.
Jewelry
Give your secret sister a cross necklace, earrings or lapel pin. Consider a charm bracelet, necklace or key chain as the first gift you give your friend. Then, each gift throughout the time period can be a different Christian symbol charm to add to the jewelry chain. Think about Christian symbols such as a cross, a dove, the Bible, a heart and the Christian fish.