Things You'll Need
Scissors

Paper

Gloves

Aluminum lasagna pan

Stapler

Tape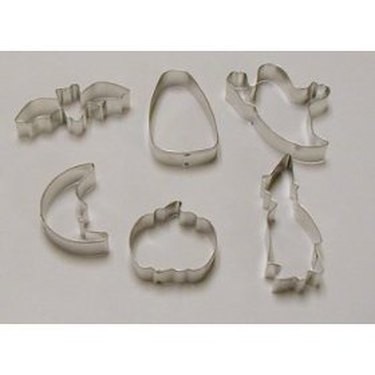 If you are looking to make some Halloween-themed treats, don't be tricked into thinking you are stuck with the options available at stores. If you really want to create one-of-a-kind cookies cut into all of your favorite Halloween shapes, you can customize your own cookie cutters for your needs. All you need are a few tin pans and a little creativity to make cookie cutters that will give you that perfect Halloween cookie.
Step 1
Determine the shape you want to create. Some great Halloween symbols that translate well into cookie form are pumpkins, witch's hats, black cats and ghosts.
Step 2
Sketch the shape you want to create. If you are not comfortable drawing, find a picture on the Internet and use that as your guide.
Step 3
Cut your lasagna pan lengthwise into 1-inch strips.
Step 4
Using your sketch as a guide, bend your metal strips to the desired shape.
Step 5
Staple the ends of your metal strips together. Add tape to hold in place.
Tip
If one strip is not long enough to create your desired shape, simply staple it to another strip.
Warning
While bending and cutting your aluminum strips, wear gloves to protect your fingers from cuts.