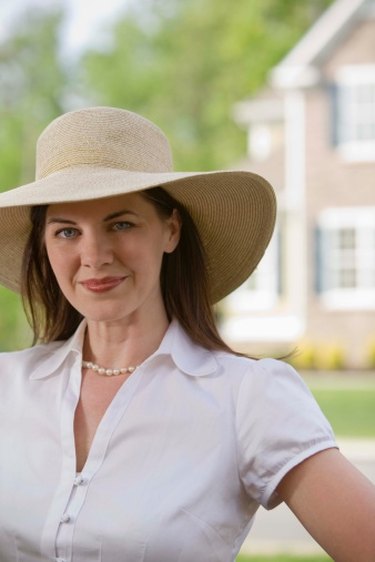 The 30th wedding anniversary is a milestone event for a couple. It means the two of you have probably stuck together through kids, stress, jobs, moves, deaths and all of life's everyday stresses. Give your wife a gift — both traditional and out of the ordinary — that will symbolize your everlasting love.
Pearls
Pearl is the traditional gift associated with a 30th wedding anniversary. An elegant gift is a piece of jewelry featuring pearls, from a string of pearls to a pair of drop earrings featuring pearls and other stones, such as the woman's birthstone. A jewelry box with mother of pearl inlay or a watch that is adorned with pearl accents is also a sophisticated choice. A more unique pearl themed gift could include pieces with a "pearlized" finish. These could include a photo album featuring a pearlized cover that is filled with pictures of the the two of you throughout the years. You could also share a night out on the town that features oysters as the main course, which is the original home of cultured pearls.
Diamond Jewelry
A modern representation of the 30th anniversary is diamond jewelry. Diamond jewelry comes in many forms, from a traditional pair of diamond stud earrings to an elegant diamond encrusted watch. When purchasing a diamond, do your research and learn about the four C's of a diamond: cut, clarity, color and carat weight. Diamonds can be very expensive, so set a budget when purchasing the diamond and shop around for a good price.
30 Themed Trip
Use the number "30" as an inspiration for the entire anniversary gift. Visit the 30th state inducted into the United States, which is Wisconsin. A fun couple can have a weekend of thrills with their grandchildren at Wisconsin Dells. A more laid back destination is Door County, which features several beaches, fine dining and quaint shopping. Continue the "30" theme by eating at the 30th restaurant you come across and making sure to kiss one another 30 times on the day of your anniversary. You can also offer your wife a bouquet filled with 30 sweet pea blossoms, which is also the flower associated with this anniversary.
Adventure
Plan an adventurous trip on your 30th anniversary. Take a trip to an exotic location the two of you have always dreamed about. Plan a 30-day cruise on the high seas or spend a week at a ski resort. A wildlife safari through Africa is an excellent way to spend your time spending your nights under the stars and days observing the wildlife, from zebras to lions.