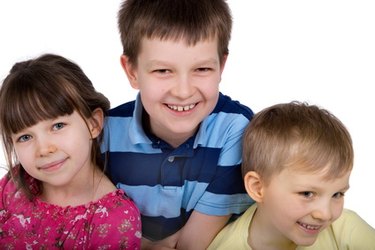 Buying separate gifts for two or more children is often quite expensive, especially if the giver wants the gifts to be more than a cheap toy for each child. A solution to this dilemma is to give one gift that is suitable and appropriate for multiple children. In an article for "Children's Ministry Today," Nicole Dean suggests some inexpensive family gift ideas. Family gift ideas can be adapted to items that several children will appreciate.
Movies
Children of all ages watch movies. Ask parents of the gift recipients which movie their children would like to receive. New movies, remastered classics and even television shows by the season are available and fairly inexpensive. A movie rental gift card is also a good idea, so the children can choose the movies they would enjoy together or separately. Tickets or passes to a local movie theater is another option to use a movie theme as a combined gift for three kids.
Video Games
Find out if the children for whom you are buying a gift have a video game console in their home. The kids may even own individual game systems. Buy a family-oriented game that all ages will enjoy for use with a family gaming system. Choose one or more age-appropriate games for kids to share on the family game console or on their own individual systems. Game rentals are also available in movie rental stores or through a mail order rental company. Gift certificates for game rentals will allow the kids to choose their games.
Magazine Subscriptions
Magazines are available at new stands or local grocery and discount stores. They may also be ordered online. Some magazines are geared for girls or boys only, while some are for certain ages of children. However, if the three children you are buying a gift for are about the same age or have like interests, many options -- such as "National Geographic for Children," "Ranger Rick," "Family Fun" and others will appeal to all three children. Some magazines that are geared toward a certain age or gender will often offer a bundle deal with a special price for two or more magazines. Short trial subscriptions are often offered, as well. In that case, a three-month trial subscription for each of three different magazines will provide a separate magazine for each child, while keeping the cost of the gift low for the giver.
Family Games
Board games appeal to children of all ages. Many of the classic games are available in anniversary editions or feature a current movie or character theme. Game sets with several family favorites like Checkers, Chinese Checkers and others are also available and will offer several options for the three kids to play together or with friends.
Discovery Toy
Consider a toy or item to provide for hands-on learning and discovery. Combine a book about the solar system and a telescope for the three children. Give an ant farm or garden kit. Give craft kits with several items to make in the kit. Ask parents what type of discovery items the kids would like to have.