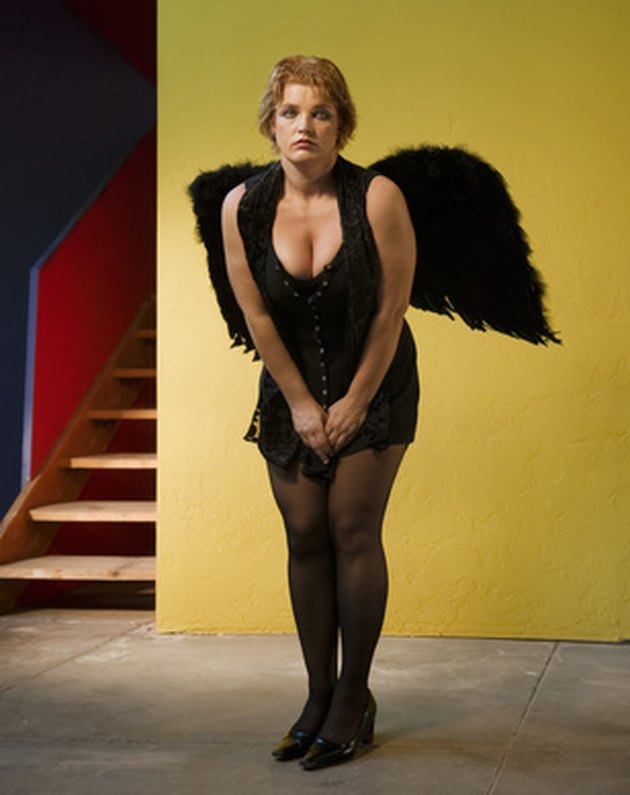 A dark angel is an angel that has fallen from grace and turned to a darker side. It makes a good Halloween theme for those who want to show off their mischievous side. With a few simple elements, anyone can use dark angel Halloween costume ideas to create a look that's scary, sexy and fun for the holiday.
Clothes
Use clothing to create the basis of any dark angel Halloween costume. Choose a short black dress or a black skirt with a bikini top to create a sexy look. For a more elegant look, choose a full-length velvet or lace gown. Men may choose a black shirt and pants or a long black robe. Black is usually associated with dark angels, because it is considered to be the color opposite of white, the color of angels.
Angel Elements
What angel would be complete without the requisite wings and halo? Because a dark angel's wings must be black, try using spray pain to add color the standard white angel wings. The same treatment may be given to the halo, which must also be black to signify the darkness of a fallen, evil angel. Add silver and red accents to bring more color to the black dark angel ensemble.
Cosmetics
Add makeup to further create the dark angel look. Black eyeliner, dark eye shadow and lipstick complement the black, evil elements of the dark angel ensemble. To add even more drama, add black nail polish to fingernails. On Halloween, it's acceptable even for men to wear a little black make-up to complete a dark angel costume.
Accessories
Finish off the dark angel look with accessories that pull the entire outfit together. Add black stockings and shoes. Men should wear boots, while women may choose sexier heels or sandals. Add black gloves and jewelry for extra embellishment. Black jewelry or items that resemble chains are appropriate for a dark angel.