There are good angels and bad ones, and that second category can be, well, a whole lot more interesting. A dark angel costume is a uniquely creative idea for a Halloween costume. You can buy these outfits online, but you can also make a dark angel costume DIY.
For some, the television show "Dark Angel" starring Jessica Alba serves as inspiration for a DIY dark angel costume idea. The costume can start with a simple black dress, but you can also wear a black top and leggings or a black bodysuit. Get a pair of black angel wings and a dark wig, both of which can easily be found online, and use a feather shawl to hide the angel wing straps.
For makeup, apply a pale color and dust your face with HD finishing powder. Red eye shadow works well for the dark angel look; use it to accent around the eyes. You can also contour your cheeks, nose, jaw and temples with black eye shadow and use more to create a sexy, smoky eye. Use black eyeliner and mascara, too, and finish with a deep red, black or burgundy lipstick. You can really go all out with this, but the overall effect should be scary, while maintaining a femme fatale effect.
Black Angel Costume Ideas
You can also make your own dark angel wings out of lace, if you prefer, using two wire hangers. First, connect the hooks and push out the main hanger portion until they resemble wings. These can then be traced onto black lace. When tracing, leave about 1/2-inch around the wire to make sure that you have enough fabric to cover the hanger. Cut out the fabric, and use a hot glue gun to attach it to the hanger.
Bring the two hooks together into a loop, and secure them with black wire. You can glue on black doilies and ribbons over the hooks to camouflage them. If you like, bling it up with a dark, silver or rhinestone brooch glued on in the center.
Additional Wing Building Tips
To make larger wings, use more hangers, open them up and attach them together by twisting the ends. Glue the wings onto the back of your costume, or use safety pins. You can also make feathered wings; simply order the feathers online, then use a measuring tape, cardboard, electrical tape, elastic and garden wire to build the wings.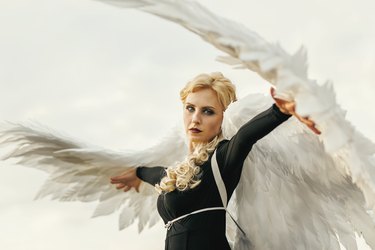 Measure from shoulder to shoulder, mark that on the measuring tape, then lay it on a flat surface. The pieces of cardboard are then placed underneath the marks, and the frame is made from the garden wire attached to elastic that fits on your back.
The wings are cut out of the cardboard, and hot glued onto the frame. You can then glue all the black feathers onto the cardboard. You can also order a black angel halo online, or make your own using a black headband, wire and more black feathers or black garland.