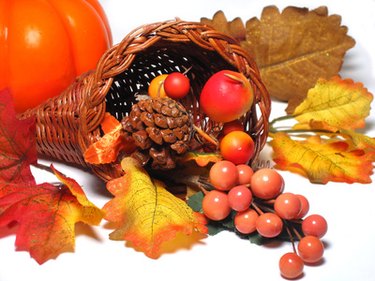 A Thanksgiving school assembly can be an entertaining and educational way to kick off the holiday before the kids begin their vacation. Get students involved in the assembly by asking each class to contribute unique performances such as songs, essay readings and skits regarding Thanksgiving traditions.
Historical Information
Use the assembly as an opportunity to discuss the historical foundations of the Thanksgiving holiday. Discuss the first Thanksgiving and what it symbolized for the pilgrims who came to America. Have one teacher dress up as Abraham Lincoln to tell the story of pardoning Tom the turkey, and have another dress as Ben Franklin to talk about the reasons the turkey would make a great national bird.
Skits
Have students perform original skits depicting Thanksgiving scenarios. These could be historical reenactments of the first Thanksgiving celebration, or a modern take on the holiday. Keep the skits short and sweet, limiting them to between five and 10 minutes, depending on your allotment for the assembly.
Readings
Encourage students and teachers to stand in front of the audience to deliver readings regarding Thanksgiving. Students could read original essays or poems, while teachers could tell stories of a particularly memorable Thanksgiving or read a short story aloud to the students.
Thanksgiving Snacks
Offer some refreshments to the students in the audience at the school assembly. These snacks should be tidy, healthy and easy to eat, and should reflect the foods served during Thanksgiving dinner. Some ideas include a trail mix of pumpkin seeds, mini marshmallows and dried cranberries, or small cups filled with pumpkin pie filling, whipped cream and graham cracker crumbs. For beverages you could offer milk or apple cider.
Ask the Audience
Walk around the audience with a microphone and select students at random to describe Thanksgiving traditions that are important to their families. Also ask students what they are thankful for this particular school year, as well as their favorite Thanksgiving foods.
School Parade
Host your own Thanksgiving parade at the end of the assembly. Ask each class to come up with a unique parade presentation, such as wearing pilgrim and Native American costumes, or constructing a miniature Thanksgiving float, for instance. Each class will have a turn to parade down the aisles of the assembly space to demonstrate their individual projects.