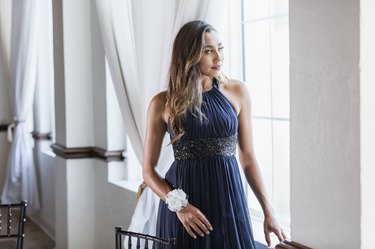 If you're looking for a good couples costume for a party or Halloween event, as a guy and a girl, you may want to consider Johnny Cash and June Carter costumes. June was the second wife of Johnny Cash, and she was known for her singing voice and musical talent before and after their marriage. June wrote "Ring of Fire," one of Johnny's biggest hits, and was known for her sharp style and skill at vocals and instrumentals. Because we have a good idea of June Carter's style from photos in the 1950s and 60s, it's a relatively easy costume to recreate, especially if you have good luck at thrift stores or some sewing skill.
Born as Valerie June Carter, June's parents were country music singers and her family entered the music business in a number of ways. June had brown hair, and was known for wearing trendy dresses from the 50s and 60s.
June was married and divorced twice before marrying Johnny Cash, and became a critical part of his country music career as he climbed to the top. She may be only known as Johnny Cash's wife after the movie ​Walk The Line​, but she and all of her children moved on to have success in country music, and they're known for their partnership not only in music but in business as well.
They both had "typical" outfits for the time; Johnny Cash was known as the Man in Black, with his signature hat, while June Carter usually wore bright colors in colorful patterns. Since they both had a signature look, this makes a great couple's costume set and shouldn't require anything too difficult to obtain. Since styles have changed so much from the 50s and 60s until now, you can take some artistic license while interpreting either costume.
June Carter's style can be called classy country. You can invoke this using outfits that call upon the stage outfits during the decades that Cash and Carter Cash were singing. You might find a photo online that inspires you, but if not, here are things to look at when you're browsing thrift stores or clearance racks.
First, a strapless gown with a skirt that goes to the knee and flares is a great statement piece that easily fits into this time period. If you can, look for bright colors and textured fabric. Pair it with neutral heels and a hand-held purse that screams retro.
Other styles to look for include cotton dresses in gingham or floral with flared skirts, in cheerful patterns and bright-colored solids. To go casual, look for a peasant-style blouse. These have come back into style recently. Wear them with bell-bottomed pants or a denim skirt with cowboy boots.
June Carter Cash Costume Hair
Any one of these looks will have you echoing the time period, but it's also important to compile the rest of the look for your June Carter costume. In most of June's public appearances, she wore medium-long brown hair past her shoulders, so you'll either need to grow your hair to this point or obtain a wig that can be curled and styled to mimic the 60s look.
June's hairstyles were mostly pinned off of her face with curls falling beneath. Look up hairstyles for the 1960s to make sure your wig matches the outfit, and you'll make a stunning musical partner in no time. If you are working on Johnny and June Halloween costumes, encourage your partner to also do his hair; Johnny Cash always had quite the coiffure.