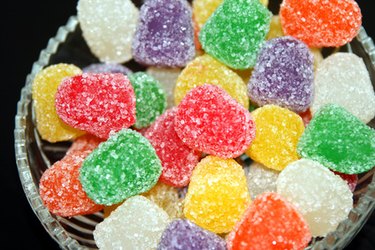 The Candyland board game debuted in 1949. Over the years, the artwork on the board has changed slightly, but the overall sweet treat theme has stayed the same. The gumdrop, invented back in the early 1800s, has stayed much the same over the years. It continues to be a favorite of children and brings back memories for adults.
Gumdrop Place Settings
Fill small flower pots with gumdrops. Stick small skewers in the pot. Write each guests name on individual pieces of card stock. Tape the card stock on each skewer. Press gum drops on the top of the skewer to finish the place settings.
Wall Decor
Cut gumdrop shapes from pieces of colored card stock, poster board or construction paper. Tape on the wall. These shapes can be used to direct guests to the different aspects of the party area such as the food table, game stations and direct guests to the bathroom. Use a different color gumdrop for each area. For example lead the way to the bathroom by making a winding path of yellow gumdrops along the wall, while red, green, purple or blue can be used to create other paths.
Gumdrop Garlands
String actual gumdrops on a piece of fishing line to use as a decorative garland. Candy garlands can be strung from the ceiling over a food table or along the edge of a door jam. Use a needle with fishing line thread to attach gumdrops randomly or in a specific pattern -- red, red, green, purple, purple, yellow, for example. Gumdrop shapes cut from colored paper can be taped onto a piece of string for a less messy option. Another way to make a gumdrop garland is to punch two holes with a hole punch on each gumdrop and then let kids string the garlands.
Gumdrop Pinata
Make a gumdrop pinata for a decoration that doubles as a party game. Blow up a round balloon. Cut a circle shape from a piece of cardboard. Tape the balloon to this piece of cardboard. Cover the entire structure with 1-inch strips of newspaper dipped in thinned white glue. Once completely dry, paint and sprinkle with glitter to resemble sugar crystals. Cut a hole and fill with candy. Unfilled, the papier-mache gumdrops can be hung throughout the party room as 3-D decorations.