Mixing floral and striped patterns makes a statement with your clothing. For an easy take on this trend, make your own flower appliqués with floral fabric and fusible webbing paper. This no-sew project pleases beginners and experts alike.
Things You'll Need
Striped shirt
Floral fabric
Iron-on fusible webbing paper
Fabric scissors
Iron
Step 1
Cut a segment of fusible webbing paper big enough to accommodate the number of flower appliqués you plan to use.
Step 2
Place the fusible webbing paper on the back side of the fabric, waxy side down.
Step 3
Turn on the iron and select the "Cotton" setting. Apply the iron to the paper, pressing down firmly and moving carefully but steadily back and forth. Continue until the wax melts and adheres to the fabric; this should take about 3 minutes. Use caution, as the paper gets very hot. Allow it to cool completely before you handle it.
Step 4
Cut the fabric around the paper.
Step 5
Step 6
Repeat for all the flower appliqués you want to use.
Step 7
Determine the placement of each flower appliqué on the striped shirt.
Step 8
Peel away the paper backing from one appliqué.
Step 9
Place the appliqué on the shirt, waxy side down. Select the "Cotton" setting on the iron and firmly press down on the appliqué. Move the iron back and forth carefully but steadily to apply even heat across the appliqué.
Step 10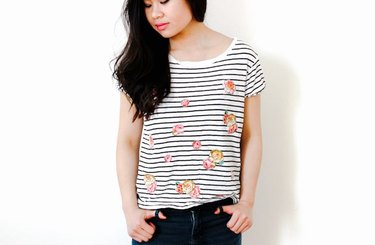 Repeat with the remaining flower appliqués. Let the shirt cool before you wear it.