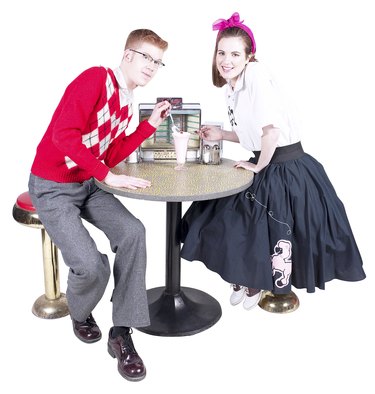 Even if the '50s were before your time, a sock hop makes an easy party theme. While you may know to dust off your mother's poodle skirt and saddle shoes along with your dad's letter sweaters to dress for the occasion, '50s food may stymie you. Fortunately, '50s food couldn't be more familiar. The corner soda shop menu lists everything you need at the hop.
Main Dishes
Nothing could be easier than the main course at a sock hop -- pile up all-American hamburgers and put out the condiments. Forget the fancy focaccia breads or even whole-wheat buns; plain white buns are the '50s standard. Skip the fancy fixings, too; plain yellow mustard, ketchup and relish in plastic containers will fit the theme. Add freshly sliced tomatoes and lettuce if you feel the need to add vegetables. If you want to serve two main dishes, put grilled hot dogs on the other side of the plate.
Side Dishes
French fries or onion rings make the perfect side dishes for a '50s sock hop. Potato chips can substitute as a side dish for either one on your heavy white diner china. If you don't have plain white china, other popular '50s colors such as pink and turquoise can work equally well.
Beverages
Real soda fountain drinks can be hard to come by unless you have your own set-up and know how to mix a perfect egg cream, but cola is the drink of choice at a sock hop party. Root beer can serve as an alternate choice. If you're looking for more adult refreshments, put the wine back in the fridge and bring out the beer. Or spike the fruit punch and drink it out of the glasses that hang off the punch bowl.
Desserts
Root beer or cherry coke floats finish off a sock hop dinner nicely, especially if you provide tables for two and two straws -- paper, not plastic -- in every drink. Milk shakes or malts work just as well, especially if you pick up old fountain glasses with the fluted bottoms at a resale shop to serve them in. If you prefer a dessert you can sink you teeth into, bake up a pan of mom's brownie recipe or a cherry pie, both served a la mode with vanilla ice cream on top. If you're going for cleverness rather than authenticity, decorate a round cake with dark icing made to look like an old LP or 45. Don't forget to put out the toothpicks and chewing gum for after dinner.