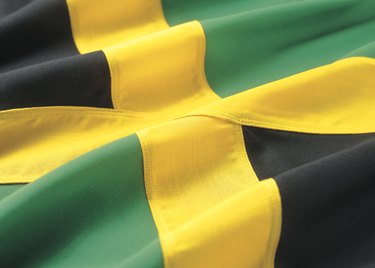 Dressing as a reggae artist or fan takes little effort but makes a big statement. Reggae may have originated in Jamaican culture, but today anyone can dress in this style. Originating in the 1960s, reggae combines rhythm and blues sounds with Caribbean style, resulting in music that is relaxed and soulful but set to a beat. Reggae musicians like Bob Marley dressed in a colorful and unique style that other fans emulated.
Colors
The first thing to consider when you're planning a reggae costume is color. There are a few shades that are most commonly associated with this style, so choosing items in these shades is essential when you're trying to show off some reggae flavor. Pick pieces that are yellow, green and black. These colors came to prominence in the reggae community because they're the color of the Jamaican flag. When combined with red, they are also the colors used by the Rastafarians, a religious movement that has close ties to reggae, so try to use all four of these colors in your costume.
Clothing
If you don't already own reggae-type clothing, you'll be able to find some pieces at a thrift shop or make them yourself fairly easily. This style is all about color and casualness. Tie-dye is a staple in reggae clothing. Dye an old, oversized t-shirt of your own using the colors of the Jamaican flag. A concert t-shirt advertising a reggae artist such as Bob Marley will also suit your purpose. For the bottom of your costume, jeans are all you need. Leave your trendy, dark-wash jeans at home and choose light-wash, loose-fitting jeans. Tear holes in the knees and affix patches to random spots.
Accessories
Many people wear reggae colors and tie-dyed clothing as part of their everyday style, so choosing some accessories is essential in order to make it clear that you're wearing a costume. If you're willing to go all out, buy a wig with dreadlocks to mimic the hairstyle of many Rastafarians. A type of knit hat called a tam fits the reggae style; this hat sits flat against the front of the head and droops down at back of the head, and it's suitable for a man or woman. Add a pair of dark sunglasses to your face and a few strings of wooden beads around your neck.
Props
Since the reggae lifestyle is largely about music, some musical props will complete your look. Reggae music relies heavily on guitars; attach a red, black, yellow and green strap to an acoustic guitar to wear around your shoulder, or affix reggae stickers to an empty guitar case to carry with you. Drums are also important in reggae music. If you can find a set of bongo drums to accentuate your costume, you'll also be able to delight your friends with impromptu drumming performances.