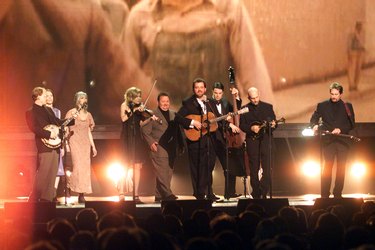 In 2000, the film "O Brother, Where Art Thou" received praise from critics and movie fans alike. At the center of the Depression-era film was the Soggy Bottom Boys, an Appalachian bluegrass band formed by the movie's main characters. With the right articles of clothing and a little makeup, you can dress like the Soggy Bottom Boys for a costume party, Halloween gathering or other theme event.
Hard-Working Denim
No Soggy Bottom Boys costume is complete without denim, and lots of it. For the most authentic look, slip into a worn and baggy pair of denim overalls. Loose jeans also work. To capture the look of the Soggy Bottom Boys' ragged look, rip some holes in the knees of the pants and rub patches of the fabric with sandpaper to give it a worn appearance. Staining the pants with dirt or dying them in black tea helps add a grubby look to the denim.
Disheveled Shirts
Along with dingy denim, the Soggy Bottom Boys wear shirts that have seen better days too. Any basic shirt free of embellishments will do. For example, wear a plain white crewneck T-shirt, a gray Henley, a pale blue or plaid flannel button-up shirt. Regardless of the style of shirt, soaking it in a tub of water dyed with tea helps give it an aged appearance. Stay away from the iron -- instead, ball up the shirt before wearing it to ensure an untidy look.
Muddy Makeup
Rather than using it to look more glamorous, makeup can help transform you into a Soggy Bottom Boy. Select a bronzer or powder in a noticeable shade. Use a powder brush to dust the makeup over your face, from the top of the forehead to the cheeks and down to the chin. This makeup helps you look like you've been wandering Southern roads, singing melancholy folk songs.
Scruffy Accessories
Adding the right accessories helps complete the look of the Soggy Bottom Boys. Hold up baggy denim pants with a pair of suspenders. A dark colored hat with a brim has a rural look typical of an Appalachian man during the Depression. Carrying around a banjo or harmonica will convince others you are part of a band. Complete the look with a long fake beard and tousled hair.