Things You'll Need
Leopard-print fabric

Thread

Needle

Poly-fill stuffing

2 plain hair clips

Hot glue gun

Hot glue sticks

Black or leopard-print shirt

Black or leopard-print skirt

Black or leopard-print tights

Facial primer

Foundation

Concealer

Brown eye shadow

Gold eye shadow

Black eyeliner

Mascara

Lipstick or lip gloss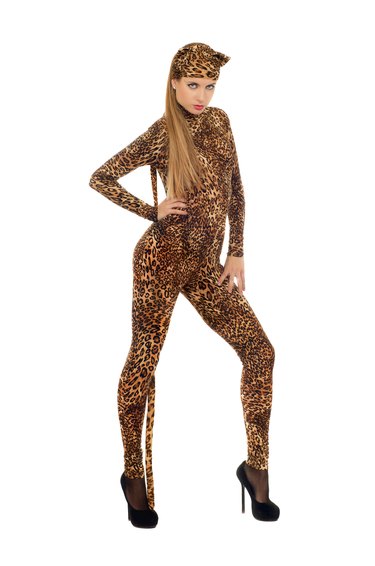 A leopard may not be able to change its spots, but you can alter your appearance to resemble the sleek, striking feline. A leopard costume works well for any age or body type and can be created at home with just a little bit of effort. Leopard-print or black clothing and makeup are the keys to creating that perfect leopard look.
Leopard Ears
Step 1
Cut four identical triangle-shaped cat ears out of the leopard-print fabric.
Step 2
Place one of the cat-ear shapes print-side down on top of a second cat-ear shape so that the print side of both shapes are touching one another. Sew the sides and top of the two shapes together with a running stitch. Repeat the process with the two remaining triangle-shaped cat ears.
Step 3
Turn the car ears right-side out so that the print side is now facing outward. Carefully fill the inside of the ear with a bit of poly-fill stuffing. Avoid overstuffing them. Real leopard ears are rather flat, but adding a bit of stuffing helps the clip-on ears stand out better.
Step 4
Secure the bottom of the ear closed with a running stitch. Do the same with the second cat ear.
Step 5
Glue a plain hair clip to the bottom of each cat ear with hot glue. Take care not to accidentally glue the hair clip together or you won't be able to attach it to your hair.
Leopard Outfit Ideas
Step 1
Wear a black 3/4-sleeve or long-sleeve shirt paired with a leopard print skirt and black tights.
Step 2
Purchase a full leopard-print bodysuit. Wear the bodysuit alone or pair with a black skirt or tutu.
Step 3
Wear a leopard-print long-sleeve shirt. Put on a black skirt or shorts over a pair of leopard-print tights.
Leopard Makeup
Step 1
Apply a facial primer to the entire face. This will help the makeup stay put throughout the night.
Step 2
Blend foundation on the face as you normally would. Apply concealer under the eyes and on any blemishes.
Step 3
Define the eyebrows with a brown-colored eye shadow. Apply a gold eye shadow on the eyelids and blend it up on to the brow bone.
Step 4
Create leopard prints on the gold eye shadow with black eyeliner. Let the eyeliner dry for a few minutes.
Step 5
Line the bottom of the eye with the same gold eye shadow used on the lids. Fill in the leopard prints create before with brown eye shadow or brown eyeliner.
Step 6
Apply mascara to the eyelashes. Alternatively, wear fake eyelashes. Line the top and bottom of the eye with black eyeliner. Cover the lips with lipstick or lip gloss in the desired shade.
Tip
Complete the outfit with black or leopard print shoes.