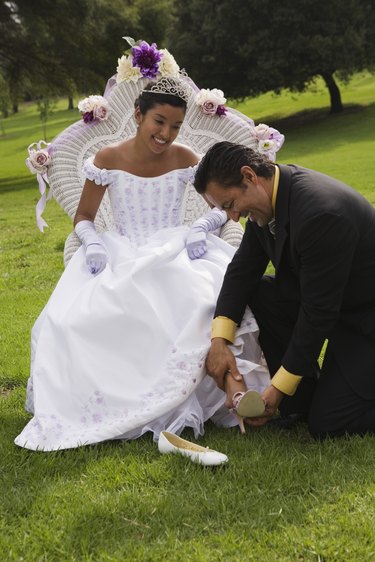 Simply put, a Quinceanera is the celebration of the 15th birthday in a young woman's life, as commemorated in Latin culture. The Quinceanera isn't just a party; it marks the transition from young womanhood into adulthood and all of the things that brings. Quinceaneras can be very elaborate events, often involving preparation a year in advance of the actual date, and can cost as much as a wedding ceremony.
The Purpose
The purpose of a Quinceanera is to mark the passage from youth into womanhood in a young woman's life through ceremony and celebration. It provides a day to honor and acknowledge the traditions of the Hispanic and Catholic culture and the important transition that every young woman experiences as she matures, both in the eyes of society and in her own life. It is also a time to celebrate the life of the young woman. To do these things, the Quinceanera has a few key components: the ceremony, the traditions and the reception.
The Ceremony
The purpose of the ceremony is to remind the young woman about her religious responsibilities and her role as a woman. Many Quinceaneras begin with a special mass at the young woman's local church. This is often followed by prayers and worship. A Bible with a special cover, often made out of lace, taffeta or satin, is given to the young woman. Religious songs are sung, and the young woman is reminded of the religious symbolism of the ceremony and the importance of her transition into womanhood in God's eyes.
Traditions
Quinceanera traditions exist to mark the transition into womanhood. During the Quinceanera ceremony, the young woman will place a bouquet of flowers on the altar of the church as an offering. She will be given a crown, and the priest will recite passages from the Bible about the importance of crowns. When the young woman enters the church, she will wear a pair of flat shoes. The father will switch these shoes for a pair of adult high-heeled shoes. Many young women will be given a ring to symbolize the infinite circle of God's love, which she will wear on her right ring finger. Sometimes a doll is given to the girl as a symbol of the last item she will receive as a child.
The Reception
The purpose of the reception is to provide a time to celebrate after the ceremony has been completed. The young woman dances in her new shoes while wearing her crown. It is during this time that celebratory food, decorations and music come into play, and the party is in full swing.