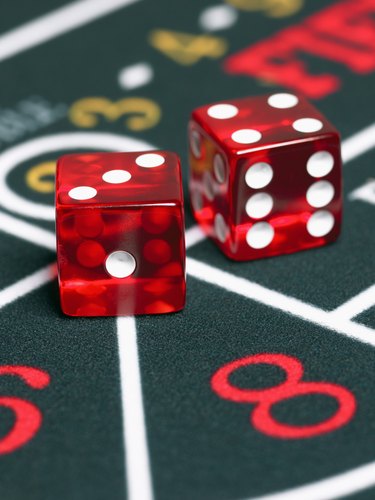 Plan a one-of-a-kind evening for your friends with an adults-only casino party complete with drinks, finger foods and classic games like poker, slots and roulette. Choose an overall theme for your casino party such as Casino Nights, James Bond or a glitzy Las Vegas-style event. Tie the selected theme into every aspect of the party, including the invitations, food choices, drinks, games and required guest attire.
Invitations
Set the tone of your casino party with invitations that best match your party theme. Select crisp black-and-white invitations with elegant font for a stylish James Bond affair and note that the party attire is formal. Choose Las Vegas-theme invitations that show a picture of dice or cards for a casual casino night with friends and note that attire is professional or semiformal. Specify in the invitations that the party is for adults only to ensure guests do not bring any unexpected minors to the party.
Decorations
Decorate the party area with casino-theme decor complete with all the glitz and glamour that a real casino would offer. Style an elegant casino affair with red carpets, large potted plants, low lighting and plenty of red and black embellishments such as playing cards, large dice and gold candles. Decorate a casual party with confetti, fake money and red and black balloons. Arrange chairs around the party area for guests and small tables where they can set drinks and food while they mingle.
Casino Games
Rent game tables and slot machines from a local rental company and hire table attendants or enlist friends to run each table for guests. Arrange the tables around a large room in your home or rented event location to resemble a casino gaming floor. Look at pictures of famous casinos like the Bellagio in Las Vegas to get ideas on how to set up the game area. Give guests a variety of popular casino games, such as slots, roulette, poker and blackjack.
Food and Drinks
Provide finger foods and appetizers which are easy to carry and less messy to eat while mingling and playing the casino games. For a formal party, select upscale food choices such as shrimp, crab cakes and a gourmet meat-and-cheese platter. Serve guests fancy drinks such as martinis, cocktails and upscale wines. Provide gourmet chocolates and a dice-shaped cake for an eye-catching dessert menu. Provide any choice of appetizers and drinks for a casual party, including deli platters, wings, dips and assorted drinks such as beer or inexpensive wine.
Music
Hire a DJ or get a friend with a sound system to keep the party environment lively as well as keep guests entertained. Allow guests to give the DJ song requests and set up a time near the midpoint of the party for guest karaoke.
Gambling
Fill small buckets with poker chips and give one to each guest as he enters the party. Guests can use these chips to bet and gamble on the casino party games instead of using real money. Award door prizes, such as gift cards to the three guests who earn the most money during the evening, as an incentive to participate in the games.